Appeals court overturns $97.4 million CityNorth subsidy


PHOENIX – In July 2007, Attorney Clint Bolick, litigation director for the Goldwater Institute's Scharf-Norton Center for Constitutional Litigation, filed a lawsuit on behalf of six small business owners against the city of Phoenix for entering into an agreement with the Thomas J. Klutznick Company to build 3,180 parking spaces at the developer's CityNorth retail center in north Phoenix, in exchange for $97.4 million in taxpayer subsidies, claiming it violated the gift clause of the Arizona Constitution.

MORE ...
Creekers continue cases into new year

By Linda Bentley | December 24, 2008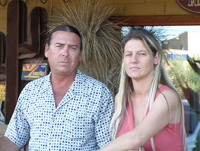 First offense DUI costly and cumbersome
CAVE CREEK – During the last pretrial session of the year for Cave Creek Municipal Court, some Creekers were granted continuances until the new year, including Gary and Jeri Rust, each charged with disorderly conduct and obstruction of a government operation or public servant, stemming from an altercation with former Cave Creek Deputy Marshal Bobby Hernandez over a civil sign ordinance violation for which they were never cited.

MORE ...
Challenging Obama's eligibility – What now?

By Linda Bentley | December 24, 2008
Florida Supreme Court dismisses petition for writ of mandamus without prejudice
TALLAHASSEE, FLA. – The 21st court challenge to President-elect Barack Hussein Obama's eligibility was filed in Florida earlier this month by W. Spencer Connerat, III against Florida Secretary of State Kurt S. Browning as a petition for extraordinary emergency writ of mandamus and stay of presidential election to be held in the Florida Senate Chambers on Dec. 15.

MORE ...
Bold move by jewelry store owner to save family
By Linda Bentley | December 24, 2008
CHANDLER – Saturday night became a harrowing experience for the Uptain family, owners of Christopher Diamonds, when armed robbers walked into their Chandler jewelry store and unknowingly engaged them in a gun battle during their attempt to rob the store.

MORE ...

Lane intends to create openness, involve citizens more
By Curtis Riggs | December 24, 2008
New mayor to be sworn in Jan. 13
SCOTTSDALE – New Mayor Jim Lane intends to instill a new sense of openness in Scottsdale City government and involve citizens in the governing process when he takes office mid-next month.

MORE ...


Grab a screwdriver to avoid $136 fine
By Linda Bentley | December 24, 2008
New license plate law goes into effect Jan. 1
ARIZONA – A new law, A.R.S 28-2354(B), goes into effect on Jan. 1, 2009 stating "a person shall maintain each license plate so it is clearly legible and so that the name of this state at the top of the license plate shall not be obscured."

MORE ...
Obituary
~ Correction ~
Last week's article, "U.S. Supreme Court denies another application to stay election," incorrectly stated The Columbian was a newspaper in eastern Washington. The Newspaper is located in Vancouver, Wash. and serves southwestern Washington's Clark County.