My View
By Don Sorchych | December 24, 2008
• Fire protection
• Cave Creek politics

Bob Williams' article on this page is an interesting view of a means to assure fire protection in Cave Creek. In Bob's world the time has come to use property tax to pay for fire protection.

It has been suggested Cave Creek continue the property tax, levied with the town's enthusiastic approval for purchase of Spur Cross Ranch, which will expire in 2012.

I remember a few Creekers spoke to council that no tax would be allowed to expire and down the road the town would find an excuse to continue the tax.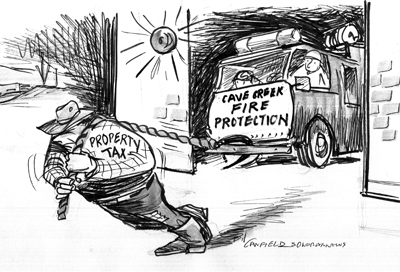 I hate property tax and I was one who pooh-poohed the skeptics and urged the town to vote for a property tax, one and only one.

I still believe it would be cowardly to continue a property tax for any new use. Let it expire with dignity. Argue any new case for revenue based on merit.

A few years ago then Councilwoman Shea Stansfield (running again, by the way) tried mightily to replace Rural/Metro with Daisy Mountain Fire Service.

Creeker Gail Clements spoke against Stanfield's idea based on personal experience and the threat went away. Clement's husband had an empty lot in the Daisy Mountain Fire District and it cost nearly as much to insure the lot as it did their home on ten acres with Rural/Metro in Cave Creek.

That problem still exists. Fire districts charge by county appraisal. Rural/Metro's charges are trivial for undeveloped land.

The remaining alternatives are sales tax and subscription by ordinance (none currently exists). Sales tax in Cave Creek at 2.5 percent is pretty well tapped out.

Paradise Valley did require subscription by ordinance and achieved 90 percent payment, with little or no enforcement. Why not try that?

A fire district will cost more for any resident with large holdings or empty lot ownership.
Cave Creek politics

A small group of dissidents have been labeled the "dark side." They meet the definition of CAVE people, "Citizens Against Virtually Everything."

For the often wrong Arizona Republic, Anna Marsolo IS NOT IN CAVE CREEK. She justifies her meddling in town affairs because she owns a house here. She is not and never has been a resident. She lives in Maricopa County northeast of the Cave Creek she so often maligns.

SHE DOESN'T LIVE HERE! And further more, she doesn't live in Carefree either. Note the protest by a Carefree citizen in letters to the editor. Nice catch on his part; she embellished, simply as means to criticize Cave Creek Town Manager Usama Abujbarah. There is no connection between voting for a mayor and a town manager form of government. They are two completely separate issues and the only one which Bob Coady is seeking is a petition for the direct vote of mayor.

But Marsolo has an echo chamber, at least one. It seems that soon after Marsolo populates the world with her latest harangue, Herb Natker follows with nearly identical polemic. Has Herb had an original thought? Ever?

Herb lives in Cave Creek and should run for council. The votes he gets might tell him how much he is appreciated. Marsolo should move to town, run for council, and suffer the same fate as Natker. Non-achievers are a dime a dozen; lets see how they perform on the big issues of Cave Creek that they so quickly criticize and denounce.

Joe Dana of Channel 12 recently did a hit piece on Cave Creek that featured Gilbert Lopez and Grace Meeth. Dana wouldn't have had to try very hard to do a balanced informational piece, but no, it was all about the fantasies of these malcontents.

Unfortunately we are stuck with both until June 1. Meeth is running and Lopez is retiring. Both are rumored to be regular visitors to the dark side gatherings. Meeth has been insistent on a slate, arguing that four are needed to reach her goal of firing Abujbarah.
Obviously she has fallen short and the best she can do is herself, Shea Stanfield, Reg Monachino and possibly Adam Trenk. Good luck on those.

Meeth, who complains she is out of the loop, would do well to invest in a computer and get the flow of information received by other council members. Council is no longer a place for Luddites, if it ever was. She also told Dana, "… we need to be smart." Unfortunately for Meeth, brain transplants are not feasible yet. Sadly, modern challenges are beyond Meeth and Lopez.

The latest on the Email hot line is Bill Allen. Do not, I repeat do not, criticize him. This comes straight from Marsolo and FOM (friends of Marsolo). Bill Allen is a hydrologist of note and according to Marsolo and FOMs he is not to be criticized.

Why? Because when he discusses water you are supposed to shut up and listen. Could he be wrong? No? Not even when top of the line attorneys disagree?

If Allen was beyond the political scope of Meeth, I would likely listen. But he is not and almost ran on a slate with the dark side. To me Allen is much like Snopes.com. If it is political, beware, while you can take anything else to the bank.

And Gilbert, for shame. Lopez had a meeting with a Cave Creek man along with a Carefree figure and they both urged Mr. X to run against Vincent Francia for Cave Creek mayor.
Who are Mr. X and the Carefree figure?

Later.

So what Dana reported was a slanted version of political news. He listened way too much to dissidents and should stick to the Cardinals and Suns.

No question the new economy causes an urgent need to reconfigure town finances and it will be rough sledding for awhile. Town council and administration need support and should ignore the voices from empty skulls while they move swiftly to deal with daily changes.