Bold move by jewelry store owner to save family
By Linda Bentley | December 24, 2008
CHANDLER – Saturday night became a harrowing experience for the Uptain family, owners of Christopher Diamonds, when armed robbers walked into their Chandler jewelry store and unknowingly engaged them in a gun battle during their attempt to rob the store.

As the account of the incident was told to Sonoran News, one of the robbers aimed a gun at Christopher Uptain for setting off the alarm.

Uptain's father, Rusty, fearing the robber was going to shoot either his son or his wife, wrestled the gunman away, causing himself to be shot in the face.

Even after being shot, he still had the presence of mind to go to the back room, retrieve his gun and take aim at the robbers, shooting one.

The suspects fled the scene and headed north on Loop 101 in a stolen vehicle.

Witnesses were able to provide Chandler Police officers with a good description of the vehicle and once spotted, a short chase ensued.

Police stopped the vehicle near Broadway Road and Loop 101, where one suspect, identified as Kevin W. Murray, 46, was treated for a gunshot wound but later died, while the other suspect fled on foot.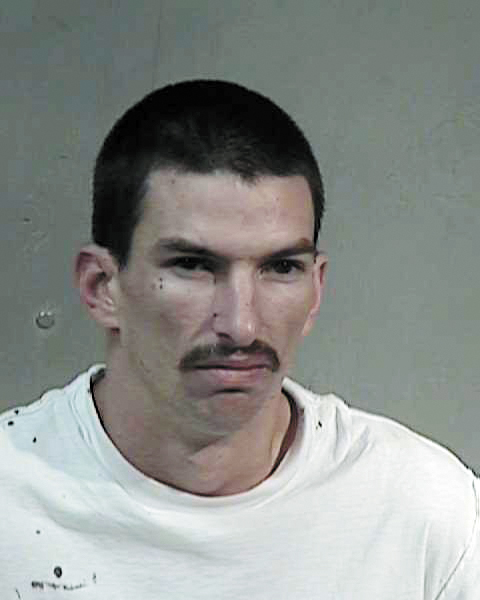 After setting up a perimeter, officers apprehended the second suspect, who was identified as Kenneth W. Simpson, 27.

Simpson is being held without bond at Maricopa County Jail on a number of felony charges, including murder in the first degree during a crime, attempt to commit armed robbery and threat using a weapon, aggravated assault with a deadly weapon, possession of a weapon by a prohibited person and a probation violation.

Simpson is scheduled for arraignment at 8:30 a.m. on Dec. 29, with a probation revocation hearing at 11 a.m. the same day.

In 2007, Simpson was convicted for an amended count of criminal possession of a forgery device as a class 6 undesignated offense and received a suspended sentence with probation.

As condition 21 of his probation, Simpson was ordered to self-surrender to the Maricopa County Sheriff's Office to serve two months in jail beginning Aug. 1, 2007, with zero credit for time served.

On Oct. 22, 2007, Simpson was brought into court for a probation revocation hearing where he admitted violating condition 21 of his probation, as he failed to self surrender to serve his two months of incarceration.

Maricopa County Superior Court Judge Pro Tem Susan Brnovich continued Simpson's probation beginning June 19, 2007 for two years, only this time he was remanded to the custody of MCSO to serve six months in the county jail, with the possibility of early release only upon successful completion of the ALPHA Program, which stands for:
A become AWARE of their life issues.
L LEARN how to face and resolve them.
P PLAN to cope with them in the future.
H seek HELP from others to assist their efforts.
A ACCEPT who they are today as they work toward a better tomorrow.

MCSO claims the ALPHA Program, which started in 1996, has a recidivism rate of 12—14 percent for its over 2,700 graduates, far below the average of 60—70 percent, asserting the program has saved the state up to $25 million.

Simpson is apparently not one of its success stories, and has had problems with drugs.
He tested positive for methamphetamine in 2005 during family court proceedings that prohibited him from having unsupervised visitation with his then two-year-old son until he completed TASC, a court-ordered substance abuse program, and passed eight random drug and alcohol tests to be performed no less than once weekly.

He was arrested for theft in Phoenix in July 2006 and for speed greater than reasonable and prudent to avoid a collision in May 2008. Simpson failed to appear in court for either.

It seems Murray was a career criminal. He was released from Arizona Department of Corrections in October 2005 after serving most of a 10-year sentence for aggravated DUI.
Records indicate Murray has been in and out of prison in since 1985, was convicted for aggravated assault in 1994 and has used numerous aliases, including Terry Brown, John Collins, Michael Orton, Kevin Palmer and Kevin Wallace.

More recently, Murray pled guilty to shoplifting in Peoria in April 2008.

He was arrested again for shoplifting in Phoenix on Dec. 15, 2008.

Rusty Uptain was taken to the hospital and is expected to make a full recovery.

Courtesy Photo: Kenneth Wayne Simpson