Walmart another step closer to reality
By Linda Bentley | February 3, 2010

'I've been accused of never seeing a development project I didn't like … There may be some truth to that'
CAVE CREEK – ... Associate Planner Luke Kautzman gave a brief introduction to the next agenda item, deferring to Walmart Attorney Sean Lake to present the site plan and answer any questions council might have.
More...

Altercation turns intense at Wagon Wheel
By Linda Bentley | February 3, 2010
On Monday morning, Maricopa County Sheriff's deputies responded to a call at the Wagon Wheel Coffee Shop on a domestic issue between two males. Deputies arrested one of the men (pictured handcuffed on the ground), only because of an outstanding warrant, conducted a welfare check on the other male and determined he required no assistance. No additional information was provided.


Schwan demands correction and apology
By Linda Bentley | February 3, 2010
Unilaterally approves unbudgeted donation to Foothills Caring Corps
CAREFREE – On Jan. 21, Mayor David Schwan fired off another letter, this time to Carefree Town Council and Sonoran News in response to the Jan. 20 article, "Carefree councilmen openly back Traynor in recall election," claiming councilmen Peter Koteas and Doug Stavoe made serious charges "based on egregious errors of fact." More...
Exposing Schwan's actions called 'political nonsense'
By Linda Bentley | February 3, 2010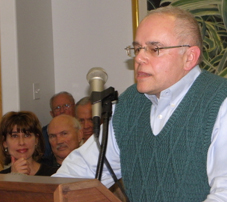 CAREFREE – Tuesday's council meeting convened with a parade to the podium for Call to the Public, beginning with Shirley Arnold reading a letter from her husband Raymond, whom she said couldn't attend because he was in the hospital.

She continuously referred to those who disagree with Mayor David Schwan's policies as the "Sonoran News staff slate" and bashed the newspaper repeatedly, on behalf of her husband.
More...