Second Annual 'Out West Art Fest' set for Feb. 26 – 28
February 3, 2010

Fine Art Show repeats at Stagecoach Village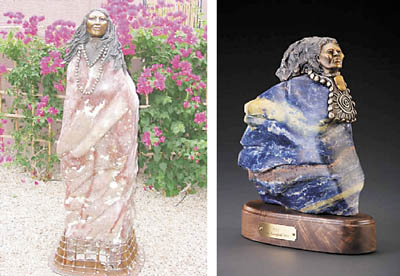 CAVE CREEK – Back by popular demand, the non-profit Sonoran Arts League will once again host "Out West Art Fest," the first, original fine art show that took place last year at Stagecoach Village in Cave Creek.

The juried show is one of the few Arizona fine art shows coordinated by artists and takes place Friday – Sunday, Feb. 26 – 28 from 10 a.m. to 5 p.m. at Stagecoach Village, 7100 E. Cave Creek Road, in Cave Creek.

Michelle Russell, event co-chair, said the number of art shows in the area can sometimes confuse the general public.

"The Sonoran Arts League was honored to be the first fine art show at Stagecoach Village last year and we were very fortunate to receive a tremendous response," Russell said. "Our juried show is truly unique in that we, as artists coordinating the show, go the extra mile to ensure that the art exhibited is of high caliber and original, and that our patrons have a very positive experience at the show."

Russell said the Western setting by no means indicates the type of art that will be exhibited.
"Out West Art Fest showcases a mix of both contemporary and Western artists," she said. "This year's event feature more than 75 local and nationally-acclaimed painters, sculptors, jewelers, wood and glass artists, photographers, and artists working with mixed media."
The event also includes live music, food, and artist demonstrations. Admission to "Out West Art Fest" is FREE. For more information, visit www.SonoranArtsLeague.org or call 480-575-6624.

Featured artist for this year's Out West Art Fest is Mike Greenfield, Bronze Sculpter and carver of unique stone. Courtesy Photo
New 'working gallery' opens in Cave Creek
By Marielle D. Marne | Feburary 3, 2010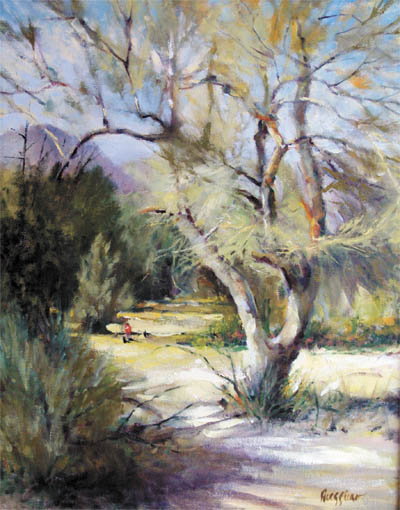 CAVE CREEK - The New Art Gallery at Cave Creek is truly that – new! Business partners Gordon Ord and Gerald Ruggierro commenced operations a little less conventionally than most. Gordon began as a student of Ruggierro. When the gallery where Ruggierro originally displayed his work closed, the idea arose to open another. Ruggierro's talents span the last 40 years. Ord commented, "I feel very fortunate to be a student of Jerry's."
In addition to their works, Becky Joy, with 20 years of experience, hangs her predominately plein air landscapes and Paul McNutt of Cave Creek shares his art along with James Kropp, who fashions incredible jewelry. "There's a diverse portfolio of subjects," assured Ruggierro.
Check out the quality artwork and meet the artists-in-residence at 6061 E. Cave Creek Rd. Open Tues.-Sat. or by appt. by calling 480-575-6964.