BY LINDA BENTLEY | JUNE 6, 2012
Andrew Thomas rolls out Citizens for Clean Courts
'If they can do it to me, they can do it to anyone'
PHOENIX – Former Maricopa County Attorney Andrew Thomas, on behalf of Citizens for Clean Courts, held the first of a series of press conferences on May 31 at the state capitol to advocate support of Proposition 115. Keep reading ....
BY LINDA BENTLEY | JUNE 6, 2012
Obama conspiracy hangs on despite increasing proof of illegitimacy
Marine says Obama claimed to be born in Mombasa, CNN fraudulently claims birth certificate is Obama's, Florida judge sets date for hearing
In a recent radio interview, Jim "Race Bannon" Bancroft, a former member of the U.S. Marine Corps, who served from 1977 to 1981, said the last place he served was in Kaneohe Bay, Hawaii. Keep reading ...
BY LINDA BENTLEY | JUNE 6, 2012
Cave Creek adopts $16.7 million tentative budget
Council wrangles over $40,000 to nonprofits, four-day workweek and accounting assistant
CAVE CREEK – Call to the Public brought Scott Dahne to the podium to address three issues.
First he asked that the town either remove or password protect his resume from the Fileprosite website, stating it contains personal information he does not want available to the general public. Keep reading ...
BY LINDA BENTLEY | JUNE 6, 2012
Phoenix police converge on Habitat condo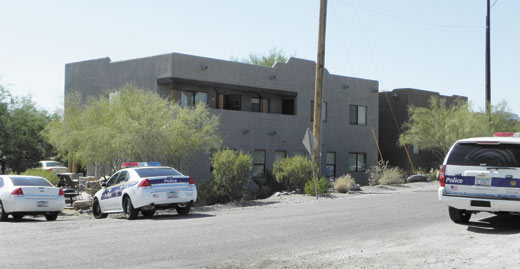 Marked and unmarked Phoenix police vehicles converged on a Habitat for Humanity condominium on Basin Road Thursday afternoon. Police at the scene, who appeared to be searching a vehicle in the parking lot and an upper floor unit, declined to comment about their presence, while messages left with the Phoenix Police Department remain unanswered. Photo by Linda Bentley