BY LINDA BENTLEY | JUNE 6, 2012
Cave Creek adopts $16.7 million tentative budget
Council wrangles over $40,000 to nonprofits, four-day workweek and accounting assistant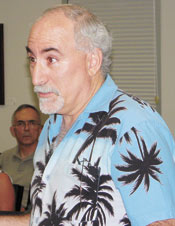 CAVE CREEK – Call to the Public brought Scott Dahne (r) to the podium to address three issues.

First he asked that the town either remove or password protect his resume from the Fileprosite website, stating it contains personal information he does not want available to the general public.

Second, he mentioned Mayor Vincent Francia's letter to the editor in the May 2 edition of Sonoran News regarding the property tax for fire protection service.

Dahne quoted from the mayor's letter and stated, "First of all, I'm appalled that you began to look at alternatives before the election was even finished and secondly, that you authorized the expenditure of funds for the town attorney at that point in time."

He pointed out that the election is over and nearly two thirds of the townspeople don't want the town interfering in fire coverage or telling them what they must pay or whom they must do business with, and stated, "The voters have spoken and this is a dead issue. The people have spoken and it's about time this council started listening."

Third, Dahne said it appears in 2011 someone on town staff or council authorized the expenditure of funds to Y.S. Mantri & Associates and their environmental consultant to design improvements to Morningstar Road.

He said he found it appalling that someone would authorize funds to be spent when it was very well known that Morningstar Road could not be improved due to existing annexation agreements.

Dahne called it an egregious misuse of funds and asked if council authorized those actions. "If not," he said, "then I think the town manager has some explaining to do to all of us."

Diane Vaszily and Jeff Miller from the Foothills Community Foundation (FHF) made a presentation to council explaining the history of the FCF and invited council to visit the Holland Community Center on 60th Street.

Vaszily said not everyone knows the center is there and stated it was "astounding" all it had to offer.

She said she wanted to make the community aware of the center.

Miller, president of the FCF, said about 10-15 percent of the people who use the center are from Cave Creek.

"We want everyone to be aware of the community center," said Miller, who stated the FCF was faced with challenges as to how to expand programs.

He said, "We see a $40,000 funding gap. If we took the proportion of Cave Creek residents … we would send you a bill for $7,000. But we're not going to do that."

Miller invited council to come by for a tour and a cup of coffee.

Council voted unanimously to pass the consent agenda, canceling the July 2 meeting.

The second reading of an ordinance to amend the town code regarding development fees so it complied with state statute was also passed unanimously.

Vice Mayor Ernie Bunch asked Town Attorney Marlene Pontrelli if she had read Title 9.
Pontrelli said she had.

Bunch stated, "It is ambiguous, at best."

Pontrelli agreed and said, "This is really just an administrative change to comply with what we believe statute says."

Council unanimously authorized the approval of an estoppel certificate and consent agreement between the town, Allred Capital, LLLP and Alliance Bank of Arizona.

Pontrelli told council estoppel certificates are routine and said by authorizing the estoppel certificate and agreement, which has to do with the 37-year agreement the town has with Allred Capital to provide treated effluent to Rancho Mañana Golf Course, the town will have exactly the same exposure as it does now.

A resolution setting forth the official returns and approving the official canvass of the May 15 special election was approved unanimously.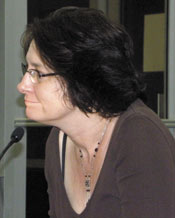 Town Accountant Marian Groeneveld presented the $16.7 million tentative budget.

Groeneveld highlighted the most significant changes to the Fiscal Year 2013 budget, which included 6 percent pay restoration for salaried employees, 3 percent merit raises for hourly employees and a return to a 40-hour work week, which was noted as a 7 a.m. to 5 p.m. Monday through Thursday work week.

Groeneveld explained there were three retirements in 2011, positions that will not be replaced, and, even with all the changes, payroll expenses will be 1 percent less than last year.

Bunch questioned the effectiveness of a four-day work week versus a five-day 40-hour week.

Town Manager Usama Abujbarah said he felt the town would be able to accommodate the public's needs with a four-day week. If not they can always revert back to a Monday through Friday schedule.

A last minute addition to the budget, to provide $40,000 ($20,000 each) to the Cave Creek Museum and Desert Foothills Library was requested by Councilman Thomas McGuire.

Bunch, reviewing town council's budget and pointing out council members are unpaid, asked Groeneveld, "Why in the world are we paying unemployment insurance?"

Groeneveld had no answer and said she would need to look into it.

During public comment, Charles Spitzer stated it is difficult to be prepared for these meetings when the latest financial data on the town's website is dated Sept. 2011. He said, "The public can't prepare if they don't have the info."

Groeneveld stated a number of factors were involved in the lapse, which included being busy with the audit, preparing the budget and training a new person, all of which she said was compounded by their new accounting program.

Kerry Smith asked how the town was doing with its projections in comparison to actual. He too thought it made more sense for town hall to be open five days rather than earlier morning hours for four days.

David Phelps agreed and said there's nothing wrong with asking people to work five days for 40 hours pay.

Bob Moore asked why the financial information on the website was not up to date and said, "We should not have long, long delays. We should provide for sufficient manpower to keep those numbers current."

Councilman Steve LaMar said he didn't think it was time to give $40,000 to nonprofit organizations and moved to eliminate the item from the budget.

Councilman Jim Bruce said there were many worthy nonprofit organizations and suggested the money remain for community grants without designating the organizations.

Abujbarah explained the town's policy that the only nonprofit organizations council may donate money to are the library, museum, Fiesta Days and the chamber.

He said if they wished to do something else, they would need to bring the policy back to council.

LaMar's motion failed by a vote of 3-4, with Lamar, Councilwoman Shelley Anderson and Councilman Dick Esser voting in favor of striking the $40,000 from the budget.

A second motion by Bruce to keep the $40,000 for community grants in the budget as non-designated passed unanimously.

Francia, after stating financial transparency was extremely important, moved to add a part time accounting position, if necessary, specifically for the purpose of keeping the public updated on financials.

The motion passed unanimously.

Council then voted unanimously to adopt the tentative $16.7 million budget.