This bobcat recently decided to take a nap on Carsia's back porch.

Courtesy Photo/Robert Carsia
School district ordered to pay for pot-smoking student's private school

By Linda Bentley | January 28, 2009

U.S. Supreme Court grants school district's petition for review
WASHINGTON, D.C. – During its Jan. 16 conference, the U.S. Supreme Court granted the petition for a writ of certiorari filed by the Forest Grove School District (FGSD) against a student identified as T.A.

FGSD, located in Forest Grove, Ore., petitioned the high court after the Ninth Circuit Court of Appeals, in a non-unanimous decision, overturned U.S. District Court Judge Michael W. Mosman's ruling that FGSD was not responsible for reimbursing T.A.'s private school tuition under the Individuals with Disabilities Education Act (IDEA) since T.A. never received special education and related services from FGSD.
More...

Divergent views on transportation survey

By Curtis Riggs | January 28, 2009
Affordable trips to airport needed

DESERT FOOTHILLS – Answers to a transportation survey conducted last fall from Cave Creek and Carefree residents are all over the board concerning the need for public transportation in the Desert Foothills.
More...

Illegal sign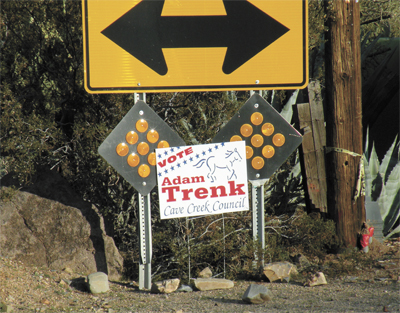 Photo by Don Sorchych: This Adam Trenk sign was located where Spur Cross Road meets Grapevine. Trenk is a candidate for Cave Creek Town Council, but the sign is illegal since it is lacking information about who paid for the sign. It was also illegally blocking a town directional sign. After Sonoran News called Cave Creek Town Hall to check on his PAC status, this sign was removed but other illegal signs remain.
Land commissioner executes annexation, development agreements

By Linda Bentley | January 28, 2009
Public hearing on water rates scheduled for Tuesday Feb. 17

CAVE CREEK – Last week, Arizona State Land Commissioner Mark Winkleman executed the pre-annexation and development agreements submitted by the town.

Although an appraisal is only valid for six months, Winkleman's approval implies the state endorses the methodology used to appraise open space and agrees to the same methodology being used when the town submits its application to the state land department to purchase any or all of the open space designated in the development agreement.
More...

Coady attacked again for his audacity to vote NO
By Curtis Riggs | January 28, 2009

Only 9 times in last term

CAREFREE – With just over six weeks left before the March 10 municipal elections Town Councilman Bob Coady is under attack for going against the grain, voting no on items other councilmen supported in the 10 years he has been in office.
More...

New water meter system working great for Carefree

By Curtis Riggs | January 28, 2009

Automatic meter readers cut costs, usage

CAREFREE – The implementation of an automatic water meter-reading program has produced great results for the Carefree Water Company since the system was implemented around the end of the year.
More...