Land commissioner executes annexation, development agreements

By Linda Bentley | January 28, 2009
Public hearing on water rates scheduled for Tuesday Feb. 17

CAVE CREEK – Last week, Arizona State Land Commissioner Mark Winkleman executed the pre-annexation and development agreements submitted by the town.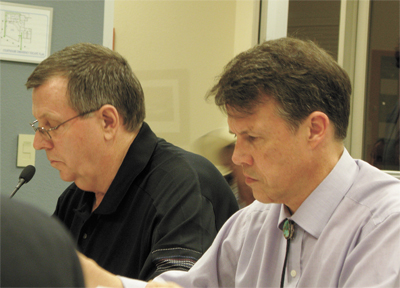 Although an appraisal is only valid for six months, Winkleman's approval implies the state endorses the methodology used to appraise open space and agrees to the same methodology being used when the town submits its application to the state land department to purchase any or all of the open space designated in the development agreement.

According to Planning Director Ian Cordwell, the town should have the documents submitted to the Maricopa County Recorder by the end of the week.

Once the documents are recorded, copies will be submitted to Maricopa County along with letters from the few owners of privately held land within the annexation boun-daries, all of which, Cordwell says, are interested in annexing into the town.

The town will hold a public hearing, once the county signs off on the annexation documents, to finalize the annexation.

The final step in the process will be for council to approve the second reading of the rezoning ordinances, which council was unable to do until the annexation was completed and under the town's jurisdiction.

Town Manager Usama Abujbarah announced earlier this week the Feb. 2 council meeting has been canceled, as there is nothing scheduled for council review.

However, Abujbarah remin-ded there will be a public hearing on Tuesday, Feb. 17 dedicated to discussion and possible approval of new water rates.

Water rates have not increased in over two decades, as the previous owners, Desert Hills Water Company, Cave Creek Water Company and Global Water Resources, made no infrastructure improvements, a requirement for privately held water companies in order to apply for rate increases with the Arizona Corporation Commission.

If council approves the new water rate schedule on Feb. 17, Abujbarah said the town will most likely schedule a special council meeting for a second reading the following week.

Photo by Linda Bentley: Senior Planner Larry Sahr (l) and Planning Director Ian Cordwell have been putting the finishing touches on the pre-annexation and development agreements, executed by Arizona State Land Commissioner Mark Winkleman last week, for recordation, submittal to Maricopa County and finalization by council.