Tonto National Forest offers $5,000 reward for recovery of stolen ATVs
By Linda Bentley | January 21, 2009
Cave Creek sees rise in sign theft throughout town

CAVE CREEK – Forest Service law enforcement officers are requesting public assistance to help recover two Polaris all-terrain vehicles (ATVs), an 18-foot cargo trailer and an assortment of off-highway vehicle (OHV) supplies and equipment.
The items were stolen from the storage yard at the Cave Creek Ranger District administrative offices on Tuesday night, Jan. 20.

A $5,000 reward is being offered for any information leading to the recovery of the stolen property and/or the apprehension of the persons responsible.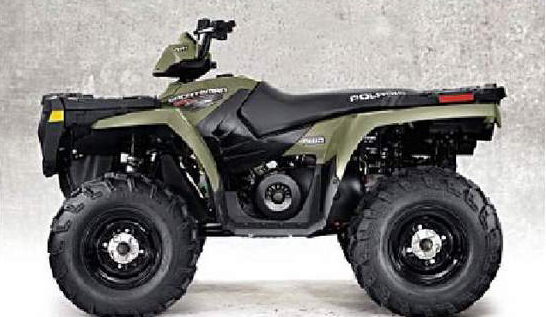 The stolen equipment includes:
Two 2007 dark green Polaris Sportsman 800 ATVs
One 2007 white Interstate "Load-Runner" 18-foot tandem wheel cargo trailer
Approximately 300-400 Forest Service OHV maps, Bendix King Radio batteries, several 300-person First Aid kits, numerous Bell helmets and orange safety vests marked with "OHV AMBASSADOR" across the back.

Anyone with information should contact Forest Service Special Agent Lisa Lewman at 602-225-5309 or e-mail: llewman@fs.fed.us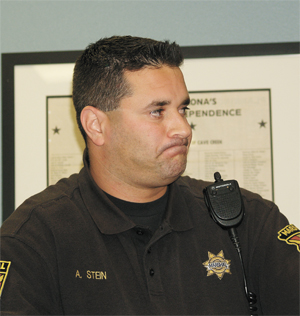 Meanwhile the town of Cave Creek has been experiencing a rash of sign thefts throughout the town, whereas many residents have reported the disappearance of the town's wildlife signs, street signs, hazard/warning signs and directional signs.
Town Marshal Adam Stein says the signs are an expense to the town both in cost of the signs, which cost an average of $200 each, and staff time to replace the signs.

While some signs will not be replaced due to serious budget constraints, Stein calls the thefts senseless and, like all thefts, they detract from the quality of life in Cave Creek.

If you spot anyone tampering with any town property or signs, please call the Town Marshal at 480-488-6636 or Maricopa County Sheriff's Office at 602-876-1742.

If anyone has information on the location of any missing signs or the parties responsible for the theft or damage of town property or signs, contact Stein at the number above or by e-mail: astein@cavecreek.org.

Stein says everyone suffers from vandalism and theft and asked citizens to remain "vigilant and aware" to help "fight this assault on town property."