Sonoran Oasis Spa: a true oasis in the desert
By Curtis Riggs | December 3, 2008
Journey to well-being in Stagecoach Village
CAVE CREEK – An oasis designed to soothe the body and soul can now be found in the midst of our community.

The Sonoran Oasis Spa opened at Stagecoach Village on Nov. 15. Spa Director Melissa Smith says "the "journey to well-being" begins at the Sonoran Oasis.

"Everything here is centered around wellness," she said. The Spa's trademarks are a pampering and soothing experience.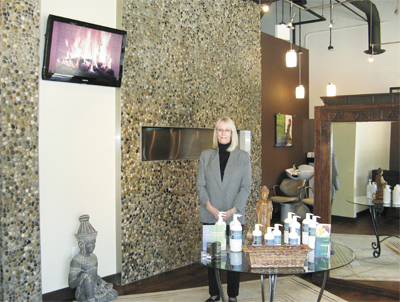 Sonoran Oasis Spa is a "green spa," which only uses natural products. The feeling of earth and its elements are prevalent in hardwood floors and native stone walls throughout the 2,400-square- foot oasis co-owned by locals Sue Harrison and Zari B.

"It's a place where people can come to rest and relax the body and soul from the stresses of everyday life," Smith said, adding "Wellness and fitness are more important than ever when things are so stressful. People are looking for new ways to relax."

People will be able to check out Cave Creek's first full-service desert-themed spa at a grand opening from 4 to 8 p.m. on Saturday, Dec. 13. Champagne, appetizers and a brush with the desert spa experience will be available to all who are invited for the grand opening.
Smith, and her staff of 11, say the grand opening could be the beginning of focusing one's mind, body and soul at a Sonoran Oasis.

Sonoran Oasis Spa is also a medical spa with a naturopathic medical doctor on staff. Dr. Jain can advise clients on nutrition and supplements and even provide geo-derm injections when requested.

To Smith, former spa director at Rancho Mañana Spa, pampering is a huge part of the Sonoran Oasis experience. She calls the experience one-stop shopping because a client can receive spa treatment, facial and get their hair and nails done during one visit.

Nature scenes ranging from a beautiful Hawaiian beach to a forest waterfall to waves crashing on the beach are projected on the walls of the six treatment rooms to enhance the relaxing and soothing experience of the earth. There is a full waterfall on one wall of the Relaxation Room.

One of rooms Smith and her staff are most proud of is the Vichy treatment room, which includes six showerheads over the treatment table, providing an experience like standing in the rain.

To find out more about Sonoran Oasis Spa visit the website www.sonoranoasisspa.com or call 480-488-7448.

Photo: Sonoran Oasis Spa Director Melissa Smith says the new Stagecoach Village Spa is all about creating a soothing and relaxing environment.
Photo by Curtis Riggs