Holiday Lights at MacDonald's Ranch fun for entire family
By Andrew Gesell | December 3, 2008
Great holiday fun right at our doorstep
SCOTTSDALE – If you're looking for a great way to kick off the holiday season, consider taking your friends and young ones to Holiday Lights at MacDonald's Ranch located at 26540 N. Scottsdale Rd. This is the Ranch's first Southwestern themed holiday extravaganza and it has a lot to offer; especially for young children.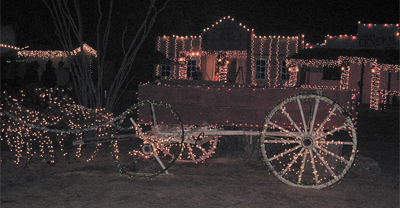 You will want to visit Santa, see the petting zoo, take a hay ride, sing with Christmas carolers, and sip hot apple cider or hot chocolate, just to name a few of the many activities.
The real amazement is the lights. "There are an estimated 400,000 lights up now," says Ranch owner Robby Richardson, adding, "We are shooting for one million lights."

There is a weekly raffle for a horse valued at $1,000 or a $250 value Christmas lighting at your home. Raffle tickets can be purchased for only $5 each.

The owners of the ranch emphasize keeping it affordable for families.

"We like to do a lot for the community – for the locals – so they don't have to drive so far," said Sylvia Richardson. "We open it up for the kids," said Robby Richardson.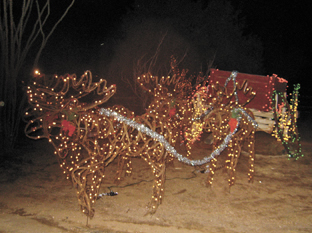 The event also sponsors a food drive to benefit St. Mary's Food Bank, a state-wide charitable organization. Bring a can of food and you receive a dollar off the cost of admission.

People who've been there describe it as a fun time.

"I think it's beautiful," said Dale Casad, 80.

"It's just a great place, I can't explain it," said Jacob Hoffner, 9, there with his mother, brother, and sister from Phoenix. "This place is just cool; there are so many things to do here."

"It's really a great place, best place I've been to," added Jacob's brother Braden, 7.

Robby Richardson changed the name from Old MacDonald's Farm to Macdonald's Ranch to emphasize its Western theme.


The ranch has been operated by the Richardson family for 38 years. It was originally 36,000 acres stretching from Route 101 on the south to Carefree Highway in the north, and from Pima Road on the east to I-17 on the west. Today it is still covers 1,280 acres. Easter 2009 will be its 39th anniversary. During the rest of the year the ranch offers Southwestern themed activities such as trail rides, cookouts and special events including weddings.

Hamburgers and hotdogs are available on weekends and kettle corn, cotton candy and candy apples for your enjoyment during the week.

Both natural and artificial Christmas trees are sold on the Ranch. Ten arts and crafts vendors are also anticipated.

The holiday event is open to the public seven days a week from 4 till 10 p.m. Christmas trees are on sale from 10 a.m. till 10 p.m. Hay rides start after 6 p.m. There is a $9 entrance fee for adults, a $6 for children 12 and younger, and 2 years and younger is free.
For more information call (480) 585-0239.

Photo: MacDonald's Ranch opens Southwestern themed holiday extravaganza for local community. Featuring a Holiday Light show with over 400,000 lights, it's great entertainment for small kids.
Photo by Andrew Gesell