Locals successful at Scottsdale Classic Quarter Horse Show
By Joanne Holmberg | December 3, 2008
Show held at WestWorld also raised money for cancer research and local charities
SCOTTSDALE – For it's sixth year in a row, the overall number of entries at the Scottsdale Classic Quarter Horse Show increased, this year topping the 8,000 mark. Competitors came from 32 states, as well as Canada, indicating the show which was held October 2-8 at WestWorld, has a huge draw.

Local Cave Creek trainer, Randy Tucker of SR Tucker Quarter Horses rode Penny Fay's stallion, "PPR My Te Cool," to the championship for three year old stallions. Randy and his wife Stacey, also coached multiple champions at the show. Allison Burge, with her mare, "Miss Glowin Zipper," was Circuit Champion in Youth Mares Three and Over and in the Walk-Trot All Around Division. Marissa Wolk and her horse, Luke Dot Com, were in the top five of the Green Hunter Under Saddle.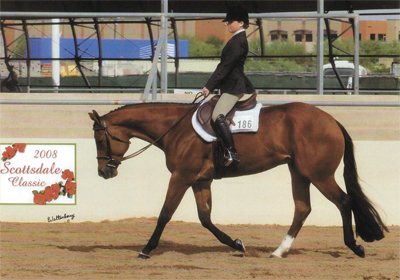 Fourteen year old, Courtney Bunce, has been training with the Tuckers for over four years. On her four-year-old AQHA (American Quarter Horse) gelding, "I Willy Was Invited," she captured the blue ribbon in the Novice Youth Hunter Under Saddle. She was also named the NSBA (National Snaffle Bit Association) Champion.

Stacey and Randy Tucker give lessons in both English and Western pleasure riding and train and start young horses on 53rd St., north of Dynamite and can be reached at 620-677-9506.

Always a popular show for the reiners, The Scottsdale Classic was host again for the NRHA (National Reining Horse Association) South West Affiliate Finals in which the top 4 finishers in each Affiliate Class earned the right to compete at the Affiliate Championship in Oklahoma City.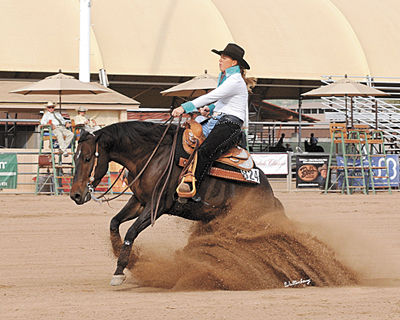 Jessica Bein of Bein Performance Horses in Rio Verde, and her assistant trainer, Lauren Whyte both qualified to compete at the Affiliate Championships. Jessica was showing Laurie Yearin's horse, "Chex This Wave Out," and Lauren was riding Brandon Beck's horse, "Maxed On Chocolate." Jessica Bein trains horses and gives lessons to all ages of riders at her ranch on 152nd St. just south of Dynamite. She can be reached at 480-471-3623.

Outside the arenas, this year's Classic was an instrument in raising money and awareness for a number of charities. Rein In Cancer had WestWorld awash with every rosy shade imaginable on Friday, encouraging everyone to wear pink while they showed. Through "pink piggy bank" donations, pink Rein in Cancer bracelets, the Rose Gem Stone raffle and the Bridle-less Western Riding in Pink Calcutta, $4,472 was raised for cancer research and support of programs for cancer survivors.

The weekend went to the dogs with a fun agility course, pet adoptions and a costume dog and handler contest. Valley Fever Research at the University of Arizona raised money and awareness for the debilitating fungal disease, primarily of the lungs, that affects both animals and humans in the southwest. Handlers from Zonies, the Phoenix area Agility Club, provided the obstacles and training tips. Having been well promoted, the event drew many people and their dogs that would otherwise not have attended a horse show.

For people searching for a new best friend, the Maricopa County pet adoption mobile and other rescue organizations were on hand. Three dogs, one puppy and one kitten found new homes.

Generosity overflowed with donations to Americas Horse Cares totaling $4,010 through a silent auction on display during the Reining Futurity Party. The auction, organized by Becky Dunning and Peggy Kimes, featured a wide assortment of items ranging from jewelry to home. America's Horse Cares is an American Quarter Horse Foundation program that benefits therapeutic riding programs. They are dedicated to creating an ongoing funding base to support both special-needs individuals and organizations that benefit from equine experiences.

Top photo: Courtney Bunce on "I Willy Was Invited" at the Scottsdale Classic Horse Show.
Lower photo: Jessica Bein doing a sliding stop on Laurie Yearin's horse "Chex This Wave Out."

Courtesy photos