My View


BY DON SORCHYCH | APRIL 8, 2015
• Our web page
• Town council objectives
• Rush


For those of you who read the print version of Sonoran News you may not be aware we publish weekly on our website, www.sonorannews.com. And every week we print there are many more articles on the web than in the printed version for obvious reasons. While we are restricted to two guest editorials in the print version, we have four to six online written by top conservative writers. I am sure you are aware the vast number of newspapers are way left, especially large ones. The Arizona Republic is a good example where almost all of their writers, news and editorial, are leftists.

Our goal is to return to weekly printing, backed by our robust website. Check it out and while you're on the site, you can sign up for a weekly email if you'd like a heads up when it is live each week.

I have had a few, very few, suggestions that we publish more of a balance of left and right. I tell them to talk to the Republic and others who emulate them, since we are giving an opposing view to most of the media which is leftist and pro Obama. Here you will read truthful news and conservative opinion.

And if you want to sell for "The Conservative Voice of Arizona" call me at 480-488-2021 Ext. 25.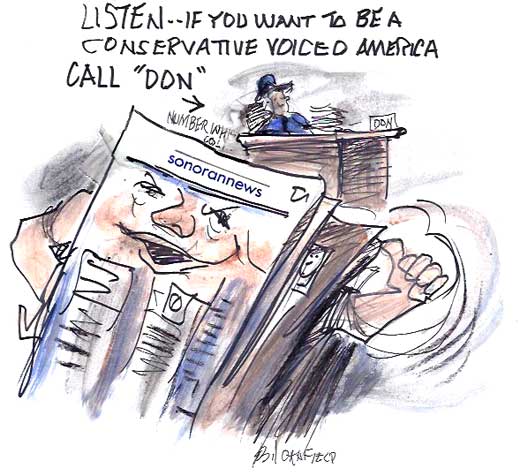 Now that Bike Week is over and we can breathe again, it is time to do something about the town's romance with the bars on the east end of Cave Creek Road.

For starters, doesn't town hall recognize that there is only one way in and out of Cave Creek? How dare they think they can put our 5,000 citizens in a coma for a week? Many citizens simply stay home to avoid the blockage, noise like a jet taking off, exhaust fumes and pornographic signs.

There is no respect for our citizens by town hall. I hope the next council meeting has a full house of complaints.

Although the Buffalo Chip, Harold's, Tap House and Hog 'N Horses benefit, the Hideaway is the driver and is being emulated by the others. The motorcycle business is not benefiting the Horny Toad (they pay security to keep their parking lot for their customers.) Madelyn Hines, who owns The Town Dump has been a serious complainer for years to no avail.

How did it happen? I told council twice they should remove the Hideaway's business license because it was founded on a lie. The former owner of Indian Village, Ron Krasson, told the council that since Hideaway was being turned down because of inadequate parking, Jeff Price, who owns the Horny Toad had granted permission for Hideaway parking. They hadn't, but the council approved the Hideaway because of the lie.

The other issue is all the previously mentioned businesses learned to put white tents and vendor trucks in their parking lots because the town is giving them the road for parking, restricting traffic. They are bringing competitors into Cave Creek while our businesses, paying heavy rentals or leases, are losing customers to fly-by-nights.

The town should certainly curtail the white tents like they used to. The tent owners often offer that if you pay cash they will discount the sale and no sales tax goes to Cave Creek.

In the meanwhile the town should stop trying to act like a chamber of commerce. We already have one. The town rehired a woman named Patty Pollnow, who was initially hired by Interim Town manager Rodney Glassman. She now reports to Town Marshal Adam Stein to continue the charade of being employed to help businesses. She told Town Manager Peter Jankowski she had contacted us, which she hadn't, but we do know the town employees don't trust her because they believed she was conduit for Adam Trenk.

Stein is a good cop; let him do his job. I recall when Usama Abujbarah was town manager, he managed Taste of Cave Creek and Wild West Days. Either is optional and there are more important things for the town to do. For instance, fix the committees and commissions that are loaded with dark side kooks. Go after the zoning along Carefree Highway and get custody of annexed property.

And keep Cave Creek Road open, it is the only road we have through town. Stop giving it away!

Rush
I listened to Rush Limbaugh yesterday and today. He is by far the best conservative radio host. You will find him on KFYI 550 AM from 10 a.m. to 1 p.m. Monday through Friday.

He talked about the details of a left wing attempt to smear a small pizza parlor owner. Indiana is being threatened by leftists calling them a bigoted state.

A TV info babe went door to door looking for religious bigots. She got nowhere until she entered a small pizza store owned by a young woman. Info babe asked the owner if she would cater a gay wedding. First of all, what couple would cater pizza for a wedding?

Anyway, the woman's answer was that she wouldn't because it would be against her religion. Info babe had what she wanted and blasted it over the airwaves.

Immediately the store received threats, including death threats, threats to burn the place down, etc. Frightened, the owner shut her store down. Donations rolled in and amounted to more than $840,000 by Saturday. So it appears the store will be reopened thanks to thousands of patriots, including some from the gay community.

Rush believes the same tactic was used on him. There is an organization called "Stop Rush" and thousands of negative messages are sent to his sponsors. He finally had had enough and investigated. He found it is just 10 people using an algorithm developed to turn their tweets into thousands. He said they had developed an algorithm that generates the message and gets it to the sponsors. He believes the sponsor of all this is the infamous George Soros.

Now you see how a few people with access to big money can multiply their effectiveness. And think about what a tool like that can do for elections.