A Royal Couple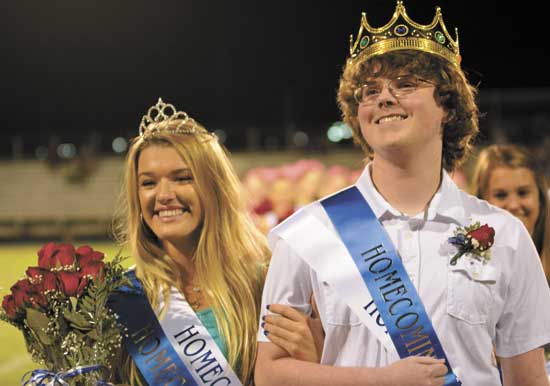 To protect the newly-resurfaced track at Falcon stadium, the "ride" for Cactus Shadows' Homecoming King Max Fraker and Queen Sophia Beaudoin was downsized from an upscale convertible to a lowly golf cart, last Friday night, Oct. 10. But King Max and Queen Sophia appeared no less excited before their coronation victory drive began. Sonoran News congratulates King Max, Queen Sophia and their proud Creeker parents, Teresa and William Fraker and Vicki and Todd Beaudoin. See the entire 2014 Homecoming Court
Courtesy Photo By Sayge Bolli

To have your photo considered for publication, please send the original high resolution jpeg file to news@sonorannews.com with Front Page Photo in the subject line. Be sure to include your name, the date, time of day and general location where the photo was taken, plus your permission to publish the photo.

Additional Education Aid, a new property tax, is the result of the district voting to change its schools to district-run charter schools
CCUSD93 – Looked at a property tax bill lately? Add up all the elements associated with education, which include the following and associated tax rates per $100 of assessed valuation, which, depending on whether it is residential, commercial or vacant, will be assessed at 10 percent, 19 percent or 16 percent, respectively, of the Full Cash Value (FCV) for property owners within the Cave Creek Unified School District ...

'MY VIEW' | BY DON SORCHYCH
Petition count and evaluation is finished in Cave Creek with the county recorders office next.

The preliminary report from the town's staff members who worked on the recall petitions indicated the review process was smooth and easy.



Share your photos of Black Mountain or Daisy Mountain
NORTH VALLEY – Desert Foothills Land Trust is pleased to once again host the 2014 Mountains of the Land Trust Photo Contest! Share your favorite shots of Black Mountain or Daisy Mountain to help the Land Trust inspire the protection of the landscapes you love.
Thursday, Oct.23; 6 – 9 p.m. – Sanderson Lincoln Pavilion, Carefree
Over 300 revelers are expected to attend the our 3rd annual event that features fine wines from a number of local wine retailers in the North Scottsdale/Cave Creek and Carefree area as well as samples of various entrees and desserts from some of the top eateries in the area.