My View
BY DON SORCHYCH | MAY 22, 2013
The campaign finance reports are out and alters no predictions. This has to be the most money spent to get a council seat in Cave Creek – ever. The results also add to the list of the dark side of politics.

Little by little the techniques used by the slate are slipping out. And there are connections like a web of zombies.

For instance, slammed out of council for good reasons, Kim Brennan is the czar of a collection of tents she calls Thieves Market, a perfect name since they come to town on occasion and compete with our town core businesses. Brennan also moderated forums for the dark side slate and has a dream like her friend Adam Trenk of being mayor. Think she would beat the Trenkster (thanks to Steve LaMar) in that future day when Iconic Mayor Vincent Francia says he has had enough?

A recent tent event was a place for the slate to set up propaganda booths to whisper lies about Cave Creek. A reader overheard behind the palm whispers to low knowledge voters suggesting the town is broke, has too much debt and things gotta change.

Grace Meeth, for example, has a PAC called, "Your voice, your vote." Meeth lost her council seat after "serving" for a decade. She got more and more radical, and after skipping a Sonoran News forum, she lost out. One of her greatest moments was when she became alarmed because Bob Haas, owner of the recently razed Cracked Crab restaurant, decided to have a few outside seats, with a lawn of about 15 by 20 feet.

Oh my God, everyone in Cave Creek will have a lawn, we can't allow that. Haas gave it up but that was typical Meeth. Drive throughs will bring in McDonalds, water features in developments will destroy the desert. Parkway Bank would never have gotten their drive through if Meeth were still on council.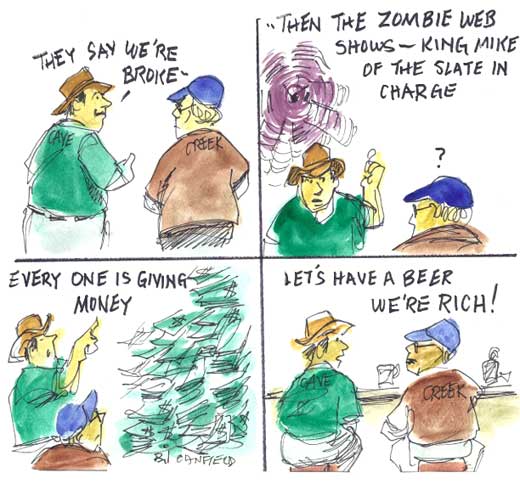 But getting kicked off of council makes people bitter. Look at who put money in her PAC which supports four slate members. Meeth herself gave $100 to her PAC. Jerry Whitmore gave $500. He too was booted off council after joining in J. Smith's council attempt. The proven liar Gilbert Lopez gave $200. The public record tells the story about Lopez's deceit or failing memory and Linda Bentley explained it thoroughly in the May 15 issue.

George Ross once was berating Lopez's intelligence. I said, wait a minute he was a service and commercial pilot. Ross said you don't have to be intelligent to fly an airplane all you need is good depth perception. Ross should know, he is a pilot too.

Gerald Freeman, newly designated dark sider, contributed $250. Melanie Phelps, wife of Cave Creek embarrassment David Phelps, gave $100.

It is no surprise Tina Chutz gave $300; Mike Chutz is the unordained king of the slate.

Wes Cooper gave $100.

Interestingly Meeth gave PAC money ($67.68) to Monachino, Spitzer and Wright but not Durkin.

Eileen Wright who has promised Heaven and Earth to voters is queen of unsightly signs, making various promises she won't keep. But we will keep score. Elections are notoriously soft on enforcement but I will ask them to explain why Wright's Feb. 28 report gave Gerald Freeman credit for donating $100 in the period and $450 cumulative to date. Yet in the May 9 report Mr. and Mrs. Freeman gave $500 in the period with a cumulative total of $700, while it should be $950. So the woman who has, "the ability to be intelligent" obviously decides when she is intelligent, if ever.

The ex-pilot, ex-councilman Lopez gave $100 in this period and $200 cumulative. Will he say a year from now he gave nothing? Stay tuned.

Carefree zealot Jim Peirce, who was behind the now failed Prop. 459, once again wrote he was in support of the referendum on his recent financial statement. His nonsense was titled, "Preserve Cave Creek's Spirit of the Desert." Barf now or later?

The opposing PAC by Stewart Jean also stated he was in support of Prop. 459. So they agreed? No, but Peirce, the pride and joy of Carefree, has never gotten it right. In support of means a yes vote which supported the council decision to rezone the property.

But thanks, innovative Peirce, you may have helped pass it. Wonder if Peirce and Wright are related?

Charles Spitzer received $100 in the period and $400 total from Kerry Smith, listed as an ASU Educator, which figures.

Tina Chutz, wife of king Chutz gave $300 in the period and total.

Gil Lopez gave $100 in the period and total.

David Blair gave $100 in the period and $200 total.

Adam Trenk, who was voted in during the primary, gave $100 in the period and total.

Ronald Iverson, husband of Rae Iverson on the planning commission, had a PAC.

Michael Wright, Carefree's Legal Council and husband of sometimes intelligent Eileen Wright gave $100 in the period and total.

Nina Spitzer, wife of slate candidate Charles Spitzer, gave $100 in the period and total.
Gerry Freeman and his wife gave $75 in the period and total.

Kerry Smith gave $38, Pauline Smith gave $37 and Mike Chutz gave $50, all in the present and total.

Reg Monachino received $100 in this period and $200 total from the truth hurts Gil Lopez.

Gerald Freeman gave $250 in this period and total.

David and Marsha Blair gave $100 and $200 total.

The Trenkster gave $100 and $100 total. Really after raising over $20,000?

Monachino loaned his political committee $3,100.

Mike Durkin loaned his campaign $1,219.84.

Durkin is like his ally, Wright; he can't follow instructions on a simple campaign finance report. He still hasn't revealed the source of the original $2,000 he started his campaign with. And he is an electrical engineer?

Anyway look on the town's website where all the details are printed.