BY MARIELLE D. MARNE | AUGUST 15, 2012
Take a shot at Rancho Mañana Golf Course before the crowds come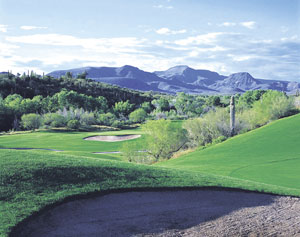 CAVE CREEK - If you've considered taking up golf but just haven't made the commitment, now is the ideal time. Not only are the fees fabulously low until mid-Sept. at Rancho Mañana Golf Course, but it's certainly less crowded. "We keep steady in the summer," Dale Samar, general manager, assured, "but there is definitely availability."

Tucked away just off Cave Creek Road and rimmed by breathtaking mountains and desert landscape, it's no wonder the course was voted one of Arizona's most scenic. And if that's not enough to want to immediately schedule a tee time, then note that the bunkers have all been redone. "Everyone loves the bunkers," Samar added.

Rancho Mañana is a public, 18-hole, championship golf course, complete with a full length driving range, practice chipping and putting greens, fully-stocked golf shop and locker rooms. Of course, while anyone can play the course, Rancho Mañana does offer memberships with some enviable perks. (Go online at ranchomanana.com for benefits.)

There is instruction from head golf professional Carolyn McMullen, for both new and not-so-new golfers, as well as junior golf programs, targeted to kids six through 17. Rancho Mañana offers everything the courses do in Scottsdale, yet it's closer and cooler!

Call for a tee time or for information at 480-488-0398 (or see more on Facebook). Rancho Mañana is located at 5734 E. Rancho Mañana Blvd.