BY MARIELLE D. MARNE | AUGUST 1, 2012
Olsen Firearms is quick on the draw when it comes to service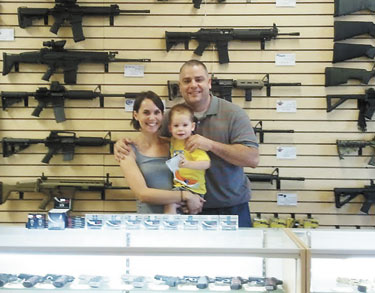 CAVE CREEK – Community support for Olsen Firearms continues to go great guns. But it's no wonder the store has seen such success, as owner Kyle Olsen strives to look beyond simply making a sale. "There's no pressure here," he explained. "What we want to do is look at each customer and we want to put him or her with the right product."

And there's a wide range of products from Barrett (.50 cal) to SigSauer. (Olsen Firearms is a Class 3 dealer, thus able to sell machineguns.) Accessories include brands like Galco gunleathers and Magpul, and there's lots and lots of ammo. Now, fun for the whole family, Olsen carries airguns - pistols and rifles. "It's a good introduction into shooting and a way to learn how to shoot," Olsen offered. It's also considerably more cost-effective.

Olsen said they are just starting to offer DuraCoat and Cerakote firearm finishes. If unfamiliar with the process, the "coats" are methods to decorate and/or protect weapons. There are several in the showroom to see, but discuss your desires with the staff and they can set you up. It's a super cool way to personalize your guns.

Because Olsen appreciates how well received he has been by his neighbors, he wants to assure he addresses all aspects of shooting. Not only can you purchase firearms, but trades, consignments and straight-out buybacks are options, as well as repairs, cleaning, gunsmithing, trigger jobs and layaway. If nothing else, stop in and take a look at the rotating mini-museum; there's quite a few antique and unique weapons not easily seen elsewhere.

Olsen Firearms is located at 28212 N Tatum Blvd. #D-4 (around the corner from Ace Hardware facing Dynamite). Call 480-922-8221 for details.