Letter of understanding could circumvent condemnation action
By Linda Bentley | March 17, 2010

Volunteers needed for Cave Creek Trail Run on April 3
CAVE CREEK – Monday's council meeting began with Mayor Vincent Francia asking Vice Mayor Ernie Bunch to introduce his brother, Senator Ed Bunch, R-Dist. 7, recently appointed to fill the balance of Jim Waring's term, to lead council in the pledge of allegiance, as Waring often did when he attended council meetings. More...

Anonymous tip brings MCSO K-9 and SWAT units to Career Success
By Linda Bentley | March 17, 2010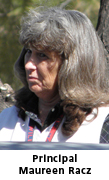 CAVE CREEK – At around 10 a.m. on Thursday, March 11, Maricopa County Sheriff's deputies, including SWAT and K-9 units, converged on Career Success Charter School.

According to the very limited information Sonoran News was able to obtain from MCSO, students and parents, MCSO was responding to an anonymous tip that students were in possession of heroin and Percocet, a narcotic analgesic combination of acetaminophen and oxycodone, used to treat moderate to moderately severe pain. More...

Hot Dog Guy has new view location
By Linda Bentley | March 10, 2010
Magic Bird appropriates old high-visibility corner
CAVE CREEK – Last week, Jerry Vicena, AKA the Hot Dog Guy, was able to negotiate a new location in the parking lot of the stone-clad restaurant site on the hill along Cave Creek Road, overlooking the mountains and the rest of Stagecoach Village below. More...

Minutemen return to the border – this time locked and loaded
By Linda Bentley | March 17, 2010

'For eight long years we Minutemen played nice …'
TOMBSTONE – On March 15, Minuteman Civil Defense Corps President Carmen Mercer sent out an e-mail message proclaiming, "High Alert for All Minutemen."

Her message began with, "Obama cuts border security funding and freezes hiring of new Border Patrol." More...
Cato analysis cites CCUSD in call for financial transparency legislation
By Linda Bentley | March 17, 2010
'Cave Creek has the highest spending of the three Phoenix districts we examined'
CCUSD – On March 10, Adam Schaeffer, a policy analyst with the Cato Institute Center for Educational Freedom, released a report titled: "They Spend WHAT? The real cost of Public Schools," which he says documents "spending figures as provided by school officials and reported in the media often leave out major costs of education and thus understate what is actually spent. More...
Cave Creek awarded $70,000 AZ Dept. of Commerce grant
By Linda Bentley | March 17, 2010
CAVE CREEK – On Monday, Assistant Utilities Manager Mike Rigney sent Town Manager Usama Abujbara and Mayor Vincent Francia an e-mail announcing the town had been awarded nearly $70,000 from the Arizona Department of Commerce (ADC) for energy efficiency upgrades to town facilities. More...
Making sense of the Decennial Census
By Linda Bentley | March 17, 2010
Illegal aliens serving jail or prison time are the only 'tourists at will' legally domiciled
in this country
DENVER, Colo. – Last week, the Denver Regional Census Center sent out a press release saying, "Though enumerators for the Decennial Census' operations are currently in rural communities, other Census survey work continues to happen." More...

Public invited to attend
March 17, 2010
Speaker lineup announced for Tea Party Rally, Saturday, March 27 in Carefree
CAREFREE/CAVE CREEK/N. SCOTTSDALE – Concerned citizens who want to see a return to core values and common sense solutions are encouraged to get involved and attend a grass-roots Tea Party Rally on, March 27 at 3:30 p.m. at the Carefree Resort & Villas in Carefree. More ...
Obituaries
March 17, 2010
Paul Helms
William "Bill" E. Brown
Sandra Jo Campbell Pearson