BY LINDA BENTLEY | AUGUST 5, 2015
Festering issues seek town resolution
'This is not being a good neighbor'
CAVE CREEK – Monday night's Call to the Public brought Tom Davenport to the podium to let council know he was puzzled and "taken aback" by the process in which council selected two people to serve on the planning commission.

He said a couple of applicants spoke, the mayor called for nominations, there were two nominations and then they were voted in.

Davenport asked whether background checks were performed on any of those people, if anyone held interviews with the candidates and what criteria was used.

Council voted unanimously to pass the consent agenda, which included the addition of a special council session on Aug. 12.

Trails Coordinator Bambi Muller recommended council approve Okanogan Trail Construction, the lowest responsible bidder, at a cost not to exceed $8,919.31, for the construction of the connector trail project, which Muller stated was part of the town's trail master plan.

Council voted unanimously to award the contract with Vice Mayor Steve Lamar and Councilman Thomas McGuire commenting on importance of this particular connection.

At a cost not to exceed $38,000, council voted unanimously to approve the purchase of PMM seal coat material from Seal Master, the town's supplier under state contract pricing, requested by Utilities Manager David Prinzhorn to perform the town's annual seal coating of roadways.

He said they would start mid September and finish mid October.

Councilwoman Susan Clancy asked how road repairs in town are prioritized and if any documents were available online so citizens would know when their roads were in the queue for repair.

Prinzhorn stated the road maintenance document was online but the seal coating program is designed to extend the life of roads.

He passed out a document showing the roads scheduled for repair and sealing this budget year but said Carefree Highway was taken off the list because it is too dangerous for town staff.

Prinzhorn said they would sub Carefree Highway out to a company that could include traffic control and possibly perform the work at night.

The next two items on the agenda were for discussion only and staff direction.

The first was a citizens' request to reopen the town's right-of-way on Glory Road (ROW) between 36th and 38th streets.

Prinzhorn said he had been approached several times by residents who had asked a neighboring property owner to remove their encroachments from the town's ROW.

He said they are encroaching into the town's ROW by three to four feet.

Prinzhorn said he also wrote a letter to the property owners requesting they remove their encroachments but it has been ignored.

Mayor Vincent Francia asked how long this has been going on.

Prinzhorn said he believed it started right around or right before he was hired.

During public comment, Diane Grillo, one of the neighbors that made the request to have the town's ROW reopened, said when the Kegger Trust home was built (2006) the owners added impediments in the ROW.

After the town sent the letter, Grillo said they not only did nothing to comply but when the town did nothing it only emboldened them to add more impediments to the ROW.

She said the property owners have put up concrete barriers and blocked the road by parking trucks and various other vehicles across the ROW, essentially denying access.

Although town staff estimated it would cost approximately $108,000 to relocate saguaros, mesquite trees, add storm drains and upgrade the road, Grillo stated, "We're not asking the road to be paved."

LaMar clarified with Grillo and Prinzhorn that pavers were the only permanent things in the ROW.

Prinzhorn advised council he would speak with Town Marshal Adam Stein.

Councilman Mark Lipsky asked if council could get an update from Stein at the next council meeting.

The next issue was introduced by Town Manager Peter Jankowski, addressing the home on Fleming Springs Road and Christian Shulze who had his home occupation permit (HOP) for an auto repair business revoked for violations of the permit conditions.

Jankowski said it would be best to let the neighboring residents speak.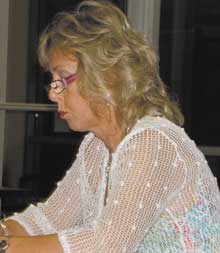 Sandi Eppel (r) told council, "These are not your Ozzie and Harriet neighbors" and said she overheard Christian Schulze tell the driver delivering old cars and equipment to the property that his "asshole neighbors got the town to shut down his business," so now he just gets old junk equipment at auction to put in the yard.

Eppel was incensed that the town since gave the owners a permit to place mountains of dirt to form a berm around their property.

She continued speaking long after being advised her three minutes were up and when Francia advised her she had exceeded her time, Eppel insisted upon reading one more paragraph.

Eppel stated the zoning code does not allow such uses in DR190 zones.

Bob Hughes, who has complained about this property and abuse of their HOP during numerous Thursday morning Office Hours with the Mayor and Vice Mayor to no avail, passed out photos of the property to council.

He said what used to be a beautiful property has basically been destroyed with junk vehicles and now a dirt berm to block the view.

Hughes said, "This has had a huge negative impact on the neighborhood … It's a horrific situation."

Pointing out the town code doesn't allow junk vehicles to be on the property for more than five days, Hughes said it all points to the town code, which he said needs to be reviewed and the loopholes closed.

Hughes pleaded with council to take action.

Katya Kincel presented a timeline of the events surrounding the property and said auto repair is not an allowable use in Commercial Buffer or Commercial Core, only in General Commercial and only with a special use permit, pointing out it is certainly not an allowable use in a residential district.

She also said despite berms not being defined in the town code and would not be considered an allowable use, they somehow received a permit for them.

Ray Stark said it was a "cautionary tale" … the town allowing a business that never should have been allowed.

He pointed to each council member and said this type of situation could happen anywhere in town next to any of them.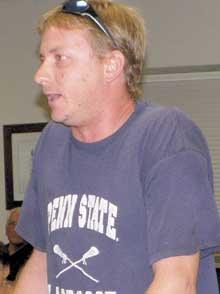 Schulze (r) was also present to speak. He told council the business is no longer there and he doesn't live there anymore.

He called Eppel a liar and said she has called the sheriff's office on him but all the charges were dropped because she lied.

Schulze also told council all the vehicles on the property are licensed, insured and run.

McGuire asked what the primary purpose of the property is.

Schulze said his brothers live there.

LaMar asked, "What is the problem? Is there a loophole in the ordinance?

He said there had to be a way to bring council a revised ordinance to correct this.

"This issue has gone on long enough," said LaMar, who likened the neighbors to the Hatfields and McCoys, adding, "I would be as livid as any of these people."

Councilman Mark Lipsky asked if the town has a definition of "junk vehicle" and questioned if they're licensed and run if they can be considered junk.

Stein said if they run they don't meet the definition of junk vehicle.

Lipsky stated, "It's ugly, it's unnecessary," and asked, "Is it just to terrorize the neighborhood and make it so ugly?"

Schulze said, "We're car people we collect cars. Some people collect rocks."

He also denied anything was being done in retaliation but said neighbors were constantly running around photographing them so they put up the berm for privacy.

Francia asked if there was anything to be gained by Schulze sitting down with the town manager to discuss a possible resolution.

Schulze said he was not opposed to it.

LaMar stated the berms were only for retaliation and asked them to find a way to resolve this.

"This is not being a good neighbor," said LaMar.

Francia directed Jankowski to set up a meeting with both sides and have the town attorney come back with an ordinance.

Councilman Ernie Bunch said in the time he's known Schulze he's always seemed like a reasonable person but couldn't say the same for one of his siblings and asked Schulze if he could rein him in.

Bunch stated, "There's room for work and compromise here."