JULY 8, 2015
Six-time deportee drug-impaired driver injures mother and two children in crash
On July 4 at 2:19 p.m., PCSO deputies responded to the area of Papago Road and Amarillo Valley Road near Maricopa for a two vehicle collision with injuries. It was reported that at least two occupants had fled the scene and that one had returned a short time later.

Information given to dispatch was that two small children had been injured in the collision, one a 5 year-old boy who received a significant laceration to the head and was bleeding.

The 5 year-old was transported by air ambulance to a local hospital and the 2 year-old was transported by ground ambulance for her injuries.

Deputies investigating the collision determined that a black 2002 Oldsmobile Bravado driven by a woman, was traveling west bound on Papago Road when it was struck by a vehicle traveling eastbound.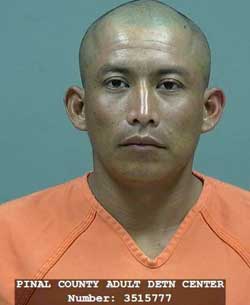 The driver of the second vehicle, a white 2003 Ford Explorer, was driven by a man who verbally identified himself as Manuel Perez-Vasques (29-years-old). Perez was seen with at least one other individual running from the collision into a nearby field and then later returning. One witness to the event stated there may have been anywhere from two to five individuals that had run from the Ford Explorer.

Detectives from the Pinal County Sheriff's Vehicular Crimes Unit determined, Perez traveled left of center causing the collision. Perez refused to tell deputies where he lived, he also said he didn't know the name of the person that owned the vehicle he was driving, nor did he know the name of the person that was in the vehicle with him.

Perez showed signs and symptoms of drug impairment and was placed under arrest for Driving while Impaired by Drugs and Leaving the Scene of an Injury Collision (felony). He was booked into the Pinal County Jail. He will face additional charges pending the results of the blood test.
Sheriff Paul Babeu stated, "Manuel Perez-Vasques admitted to deputies that he was in the United States illegally from Mexico. Since May 5th, 2012 he has been deported back to Mexico a total of six times. He also admitted to smoking marijuana prior to causing the collision. He refused to give a blood sample when arrested because he knew he had drugs in his system. Detectives had to get a search warrant from a judge to obtain the blood sample."

Sheriff Babeu continued, "While the mother of the other vehicle was trying to help her children that were injured in the crash, Perez and his passenger were more concerned with running from the scene which may have been to hide drugs or other evidence. We are thankful that Perez didn't cause a fatal collision and we will ensure he is prosecuted to the fullest extent before released back to Border Patrol where he will undoubtedly be deported once again with no additional consequences."