BY LINDA BENTLEY | OCTOBER 16, 2013
Sharia or the Constitution?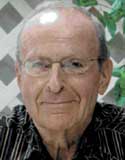 PHOENIX – Legislative District 1 Republican Committee is hosting a special event featuring Dr. Carl Goldberg, an exciting and popular speaker who can help educate the community about Islamic ideology and the threat to non-Muslims and our way of life.

Drawing upon the most respected Islamic sources, to prove that Islam is not just a religion but also a totalitarian and imperialistic ideology, Goldberg's eye-opening presentation will explain whether Islam has been hijacked by "extremists," if there are "moderate Muslims," the role of the Koran, the role of Muhammad, what Sharia Law is, status of non-Muslims and women, relations to the non-Muslim world, the conflict over Israel, human rights, jihad for the sake of Allah, freedom of speech and anti-blasphemy laws, the Muslim Brotherhood and whether there is a conflict of civilizations.

There is no cost to attend this event at 6 p.m. on Monday, Oct. 21 at the NorthGate Church, 34835 N. 7th Street, Phoenix 85086, just north of Carefree Highway.

The evening presentation will begin at 6 p.m. and will be followed by a Q&A session.

There will also be a special raffle for a $10 Sonic gift card.

Judy Hoelscher, First Vice Chair of LD1 Republicans, said this is an event not to be missed and encourages everyone to invite their family, friends and neighbors to attend.