JULY 24, 2013
MESA – The Sonoran Desert Chorale celebrates its 20th Anniversary Season "VoXX" with a series of concerts celebrating and reflecting upon the past twenty years of creating gorgeous lyrical music. Taken from the Latin for voice and the Roman numerals for 20, this special season continues the Sonoran Desert Chorale's mission of bringing a wide variety of music to Valley audiences.

JULY 24, 2013
ALEXANDRIA, Va. – Last year over Fourth of July weekend, Alexandra Anderson, 13, and her brother, Brayden Anderson, eight, were swimming near a homeowner's dock on the Lake of the Ozarks in Missouri when they started to scream. By the time the siblings were pulled from the lake, they were unresponsive and a short while later were pronounced dead.
JULY 24, 2013
Leftover permits for 2013 fall big game hunts now available
Available first-come, first-served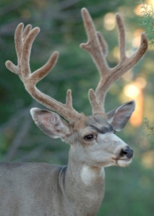 PHOENIX – Hunters who submitted applications for a fall hunt, but were not drawn, have a second chance to get a hunt permit-tag. Approximately 4,000 leftover tags for Arizona's fall hunts are available now on a first-come, first-served basis.

Leftover tags are available in two phases. In the first phase, applications are being accepted now by U.S. mail only. Leftover permits will then be made available for purchase at all Department offices, with a completed application, beginning July 29, 2013 at 8 a.m. (MST). This will be in addition to the mailing process.

More than 121,600 people applied for this year's fall draw, and 49,471 hunt-permit tags were issued.

For those who qualify, military hunts may be available for Fort Huachuca. Call (520) 533-7083 or (520) 533-8763 for additional information.

For more information on leftover permits and other draw-related information, visit www.azgfd.gov/draw.