BY MARIELLE D. MARNE | dECEMBER 5, 2012
Pet pictures, PennHIP part of preservation plan at Dove Valley Animal Hospital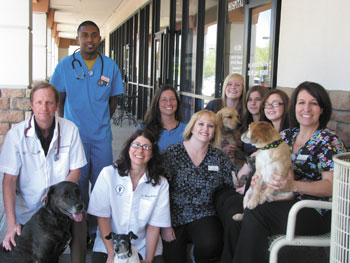 CAVE CREEK – Dove Valley Animal Hospital will be hosting its annual Pet Pictures with Santa holiday event on Sat., Dec. 8 from 9 a.m. to 12 noon. (See their facebook page for more.) Mark your calendars because not only Santa will be there to take free photos with furry family members, but there will be complimentary nail trimmings, treats for pets and refreshments for their people and lots of give-away grab bags. Clients as well as those who haven't tried Dove Valley Animal Hospital are invited!

If you've not been to Dove Valley Animal Hospital and love dogs, there's exciting news for owners of canines susceptible to hip dysplasia. Dr. Michael Kiedrowski was recently certified as a Pennsylvania Hip Improvement Program, or simply PennHIP, veterinarian. What this means is he will have the ability, through radiographs, to more accurately assess whether a puppy as young as 16 weeks will be a candidate for the condition. If so, Kiedrowski can advise owners as to lifestyle changes and preventative measures to minimize both pain and progression. The easiest path owners can take is keeping the animal slim, trim and muscular. PennHIP is not a new method to evaluate hip laxity, but it's most accurate and breed specific.

While the initial diagnostic cost may be more outlay than some owners want to spend, keep in mind that prevention is much more cost-effective than trying to maintain the debilitating disease throughout the dog's lifetime. Additionally, Dove Valley offers interest-free payment plans for those who may need it. Ask for details on both PennHIP and possible payment plans in-office at 4815 E. Carefree Hwy. (near Fry's Food) or phone 480-595-5731. Dove Valley Animal Hospital is open seven days a week.