MARCH 14, 2012
Bella Vista College Preparatory School to build robot
SCOTTSDALE – Bella Vista College Preparatory School, one of Arizona's leading edge learning institutions, will showcase its technological edge during the FIRST Robotics Regional Competition (FRC) competition, which provides opportunities for young people to get involved in engineering and science and helps build communication and teamwork skills. The 2012 event, which features 50 teams, is being sponsored by jcpenney at Paradise Valley Mall and will take place on March 22-24, 2012 at Hamilton High School, which is located at 1601 W. Main Street, Mesa, Ariz., 85201.

This year's competition, known as the "Rebound Rumble," brings talented students together to build a robot that must be able to shoot a basketball or defend other robots. The Bella Vista College Preparatory School robot mainly will be defensive, requiring it to prevent other robots from shooting a basket.

According to principal Lisa Artenian, students received a kit of software wireless transponders, computer equipment and wiring from sponsor jcpenney to build the robot. The school raised its own monies as well. Competition winners will receive awards for web design, business planning and animation.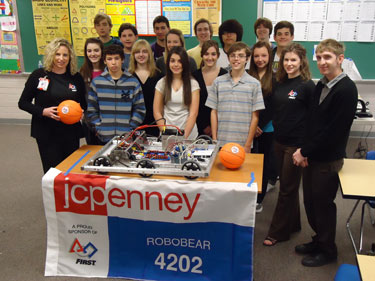 Team 4202, known as the RoboBears, of which Bella Vista is a rookie member, will demonstrate its robot's capabilities during a special demonstration at the jcpenney at Paradise Valley Mall, which is located at 4510 E. Cactus Road in Phoenix, Ariz., 85032 on March 23, 2012 near the front entrance.

Bella Vista College Preparatory School is one of the only schools in the northern foothills to offer a robotics program, which it operates as both as a class and a club. Six students will compete in this year's FRC event.

Bella Vista College Preparatory School, which serves kindergarten through high school, offers innovative curriculums and customized programs that incorporate problem solving, critical thinking, global awareness and technology into everyday instruction.
MARCH 14, 2012
ASU graduate programs among best in nation
TEMPE (March 13, 2012) - The new rankings are out and Arizona State University's graduate programs once again rank among the best schools in the nation, according to the U.S. News and World Report "2013 Best Graduate Schools" rankings released March 13.

ASU is listed among the nation's best schools for law, education, business, public affairs and fine arts.

Ranked 26th among public and private law schools, ASU's Sandra Day O'Connor College of Law moved upward from the No. 40 spot due to an increasing caliber of students, quality of education, reputation among academic peers, recognition among judges and lawyers across the country, and employment track record.

The College of Law is now the eighth-highest ranked public law school.

The Mary Lou Fulton Teachers College also moved up significantly, ranking 16th among public graduate schools of education and 26th among all public and private graduate programs in the field. Last year ASU's graduate education programs ranked 25th and 35th respectively.

The increase comes less than two years after the Teachers College expanded to serve all ASU campuses and offer a variety of undergraduate and graduate programs in communities across Arizona.

Ranked 30th for its full-time MBA program, the W. P. Carey School of Business at ASU offers competitive programs in supply chain management, now ranked fifth, and information systems, ranked 13th. The school's part-time evening MBA program is ranked 21st nationwide.

The W. P. Carey School is one of the top five business graduate schools in the West, and is the only Arizona business school to make the top 50.

ASU's Herberger Institute for Design and the Arts ranked No. 22 overall for fine arts with specialties in printmaking, ranked fifth; ceramics, ranked seventh; and photography, ranked 11th.

Other notable placements among graduate programs include the School of Public Affairs, in the College of Public Programs, ranked 16th overall. The school's city management and urban policy program ranks second; its environmental policy and management ranks 10th; its nonprofit management program ranks 15th; its public finance and budgeting program ranks 16th; and its public management administration program ranks 19th.

ASU's criminology program ranks 12th nationwide and its earth sciences program ranks 17th.

U.S. News and World Report named ASU among the "2012 Up-and-Comers" last fall among national universities in their 2012 "Best Colleges" guidebook.

Last year ASU was ranked 78th in the top 100 universities in the world by the Institute of Higher Education, Shanghai Jiao Ton University – considered one of the most prominent world university rankings. The ranking emphasizes university outcomes over student acceptance rates.