BY LINDA BENTLEY | OCTOBER 12, 2011
Cave Creek Tap Haus emerges 'Somewhere in Cave Creek'
CAVE CREEK – Locals may have noticed something brewing over at the former Cave Creek Roadhouse and Hammerhead Jack's location. Keep reading ...
BY LINDA BENTLEY | OCTOBER 12, 2011
CCUSD93's override election – the missing pieces
CCUSD93 – The upcoming special election for Cave Creek Unified School District, also known as School District No. 93, has brought to light a host of interesting problems this election go-round. Keep reading ...
BY LINDA BENTLEY | OCTOBER 12, 2011
PVUSD – Mixing facts, fiction and propaganda
'Text books are a priority budget item, not an excuse to raise taxes'

PVUSD – Since the Nov. 8 Special Election Informational Pamphlets have been mailed for the Paradise Valley Unified School District, district taxpayers have accused the district and the elections division of the Maricopa County Education Service Agency of politically biased shenanigans with respect to the district's upcoming bond and capital override election. Keep reading ...
OCTOBER 12, 2011
The Taste of Cave Creek culinary event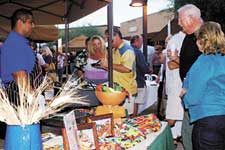 Don't miss The Taste of Cave Creek Saturday, Oct. 15 and Sunday, Oct. 16 at Stagecoach Village. Presented by the Town of Cave Creek.
Where: Stagecoach Village, 7100 E. Cave Creek Road, Cave Creek
When: 11 a.m. – 5 p.m., Saturday, Oct. 15 and Sunday, Oct. 16
Tickets: $10, or both days for $15. (Available at gate and at participating restaurants.)
Food tastings from $1 - $4 each.
Highlights:
• Delicious tastings from more than 20 Cave Creek area restaurants
• Desert Foothills Film Festival showings
• Live music with Rondavous and Chicks with Picks from 11 a.m. - 5 p.m. both days
• Craft beer garden
• Wine, beer, Cruz tequila tastings
Info: www.tasteofcavecreek.com or 480-488-1400.
OCTOBER 12, 2011
Gun fire and theater to rock Cave Creek's Wild West Days Nov. 5-6
Wild West Days Parade entry deadline Oct. 20
CAVE CREEK – Wild West Days 2011 will feature Arizona's first Gun Down by Sundown on November 5 and 6 in downtown Cave Creek.

Keep reading ...
OCTOBER 12, 2011
Deception and Disorder in Immigration Court
In-Depth Report Now Available
WASHINGTON – Following up on an earlier summary report, the Center for Immigration Studies has released a 100-page monograph of "Built to Fail: Deception and Disorder in America's Immigration Courts," authored by Mark H. Metcalf.

A former immigration judge, Metcalf reports that there are inherent flaws in the immigration courts that lead to widespread disregard of its rulings by the aliens who appear before them. Keep reading ...
OCTOBER 12, 2011
Governor Jan Brewer establishes Arizona Child Safety Task Force
Task Force to study child-safety policies in Arizona and other states, issue recommendations
PHOENIX – Governor Jan Brewer today announced via Executive Order the establishment of the Arizona Child Safety Task Force. Members of the task force will be charged with reviewing the state's child-safety policies and the best practices of other states. Keep reading ...
OCTOBER 12, 2011
ASU Launches Rapid Startup School aimed at Postdocs and Grad Students
'Pracademic' modules aimed at promoting startup activity across disciplines
SCOTTSDALE – Arizona State University's Venture Catalyst in collaboration with ASU's technology transfer arm, Arizona Technology Enterprises (AzTE), is launching a new program aimed at creating startup activity in postdoctoral researchers and graduate students. Keep reading ...