OCTOBER 12, 2011
Valley artist helps build Kenya hospital for women and children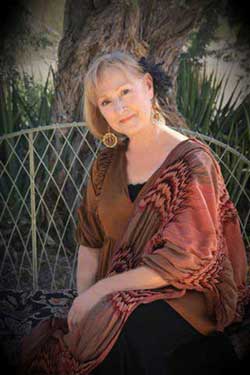 CAVE CREEK – Jeanne Bonine has a passion for inspiring art and healing lives. Both have a common denominator in Africa.

Forty years ago the artist fantasized about Africa. She painted animals and landscapes she never saw. Raising a family trumped her desire to join the Peace Corps. So over time she became a watercolorist and flowers took center stage.

A collection of these paintings were featured in Inspirations of Timeless Beauty, a book Bonine wrote following her battle with cancer. "I knew this autobiography and documentation of my work and prose would reach out to a larger audience to inspire and heal," she said.

Through her art Bonine has met many remarkable people. Two in particular are a philanthropic couple and co-founders of the Friends of Naivasha. Their non-profit agency was created to build a much needed women's hospital and health center in Kenya.

Africa called. Bonine got on board. She donated her paintings for hospital fund-raising events and dedicated portions of her art sales to the Friends of Naivasha project. Her African images were used on greeting cards then released to the project for more fund-raising.

Then she was invited to visit Kenya with the group.

"The moment we reached our destination, my tears were uncontrollable," she confessed. "I felt the aloneness and desperation of patients sitting on the ground outside the dilapidated walls they called a hospital. I heard the cries of newborns for mothers who died giving birth. I saw those afflicted with AIDS, frail and consumed."

Bonine has left an indelible impression on Friends of Naivasha. Featured in the foyer of the hospital's initial wing is her Angel by My Side, the floral watercolor used on the cover of her book. "Little did I know what significance it would have years ago when I painted it!"
Additionally Bonine will once again donate 10% from her African image sales during this year's Hidden in the Hills Artist Studio Tour.


"I'm grateful to be part of Hidden in the Hills," Bonine stated. "I can open my home, show my new Africa paintings and tell this amazing story. It's an intimate and personal way to see what inspires me, how I work and what makes me tick!"

For more information visit: www.jeannebonine.com or contact: [email protected]
The 15th Annual Hidden in the Hills Artist Studio Tour is scheduled the last two weekends in November: Friday-Sunday, Nov. 18-20 and Friday-Sunday, Nov. 25-27, 10 a.m. to 5 p.m.