The Phippen Museum's newest exhibition, All Aboard!
The Life and Work of Marjorie Reed, March 6 – June 11
March 3, 2010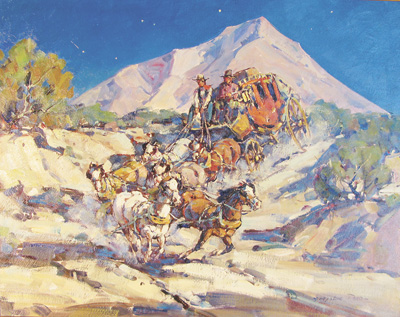 PRESCOTT – Marjorie Reed was a prominent Western artist who is best known for her paintings of the Butterfield-Overland Stage Trail. She made her living solely as a freelance artist for over 65 years and left behind a significant body of work.
The All Aboard! Exhibit features a wide variety of Reed's work from several periods over her lengthy career: teen sketches apprenticeship landscapes and of course, paintings of her most popular subject, stagecoaches. Of particular note are six paintings on loan from the Arizona Historical Society from Reed's Arizona Butterfield Overland Stage series. Celebrate this unique American Western artist and her career!
Join author and gallery owner Gary Fillmore at 1 p.m. on Saturday, March 13 (free with museum admission) as he discusses the life and loves of artist Marjorie Reed. Owner of the Blue Coyote Gallery, Gary specializes in historical Arizona and Southwestern desert artists. He has published several biographies including, "All Aboard! The Life and Work of Marjorie Reed."
The Phippen Museum is located just a few minutes north of downtown Prescott, at 4701 Highway 89 North. For additional information please call 928-778-1385 or visit
www.phippenartmuseum.org
.
One hundred artists at Arizona Fine Art EXPO
March 3, 2010
SCOTTSDALE – "Now is a great time to buy art," said Judi Combs, president and CEO of the award-winning Thunderbird Artists.
For 28 years, Thunderbird Artists has produced award-winning fine art and fine wine festivals. A family-run business, Thunderbird Artists' success prompted the birth of the Arizona Fine Art EXPO six years ago. Located in the "festive white tents" at 26540 N. Scottsdale Road, on the southwest corner of Scottsdale and Jomax Roads, the popular show features some 100 renowned artists from throughout the country who create original pieces of fine art during the show's 10-week run.
"Arizona Fine Art EXPO is off to a good start," Combs said. "We're encouraged to see our artists holding their prices. Collectors can be assured that the value of our artists' work has not decreased. Yet, artists are sensitive to current economic conditions and many are offering a variety of price points. For example, some artists are painting different subject matter in smaller sizes or selling giclée prints in addition to their original pieces."
"If you're just beginning to collect art, start small," Combs said. "Keep an eye on artists you like. Follow them and get on their mailing lists."
Arizona Fine Art EXPO runs through Sunday, March 28 from 10 a.m. to 6 p.m. daily.
Highlights include weekly art classes and workshops; wine tastings; garden parties on March 4 and March 18; and live music every weekend. Season passes cost $8; admission for seniors and military is $7; and children under 12 are free. The one-time cost of the pass is not expensive as patrons can return again as often as desired at no additional cost. Parking is free and is accessible to patrons with physical challenges.
For more information, call 480-837-5637 or visit
www.ArizonaFineArtEXPO.com
.