My View
By Don Sorchych | February 24, 2010
•Sonoran News changes
•Four questionable votes
•Unions go for Schwan
This issue "celebrates" the end of our 16th year of publication. It may also be the last weekly print issue of Sonoran News for a while.

We have struggled with the effects of the economy and the apparent lack of business/consumer confidence has eroded our rate of advertisements.
As a free newspaper, we have only advertising revenue to offset costs of employment, printing, distribution costs and overhead. Over the years my personal contributions have kept the doors open and the watchdog growling. However the slump in advertising has been significant.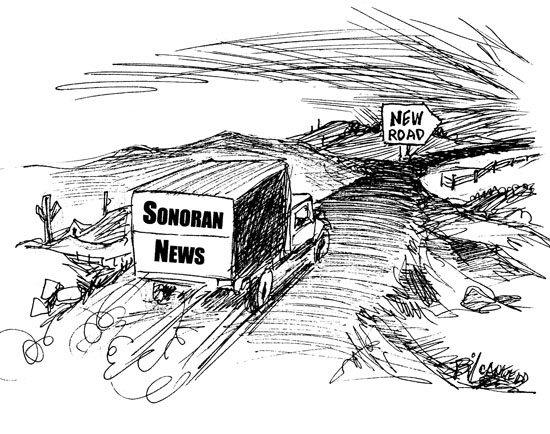 I wish I had looked for support earlier since I have to believe there are many who would help a newspaper that has years of community support for able political candidates and the exposure of those who have personal agendas. I believe Cave Creek has benefited greatly and I believe Carefree will as well when the next election removes the current CEO and makes way for a new mayor with good old boys a minority.

Reading Sonoran News you will see advertisers who have been loyal for years and you can thank them for the weekly delivery of our popular paper. And I thank them for their support, which has been fundamental to our 16 years.

A pending financial transfusion will bridge the company to future success.
I am proud we have published articles which the liberal press has buried and I believe the future will show those articles are predictive of a brighter future.

Our loyal and hardworking employees deserve to continue their excellent team work every week and they are the major reason I have kept pressing for success in spite of the economy. They are not only valued employees but dear friends.

As you know I had a stroke in November of 2008 and my wife Shari Jo kept my position alive in the paper. She had a prosperous business which she sacrificed to help. Her value is so great she stayed on and has become a vital member of the Sonoran News team. Although she could return to her profession of writing and publishing books she is supportive of the measures we are taking.

January 25 was my 79th birthday and I surely don't feel that age nor do I feel like retiring again. I have put off writing my autobiography for years and in the meanwhile my six grandchildren are all in college or have graduated, except one. That would keep me busy for awhile if I stepped down.

So, new tactics are in order. With financial help from friends we have instituted changes.
We will print Sonoran News every other Wednesday along with publishing more than what will fit on the pages on SonoranNews.com. On the Wednesdays we do not appear in print we will publish on SonoranNews.com, which will provide everything the current printed version does and more. SonoranNews.com advertisements will be sold on all of your favorite pages, plus on The HUB. Bulletin Board display advertisers will be offered Internet versions along with their printed versions for a small fee.

Reluctantly, there will be a minimal charge for all classified ads after 16 years of offering free personal ads.

We will begin home delivery for zip codes 85331, except for key carrier routes, and 85255. USPS will deliver to Cave Creek and Carefree's Post Offices and zip codes 85262 and 85266.
With advertiser cooperation we believe this will work.

We will reinstitute a quarterly program to seek contributions from our readers as we did several years ago. These contributions help defray the cost of delivery.

The measures are necessary to counteract the economy's continued uncertainty and as the economy improves we will migrate back to printing weekly. I hope and believe our advertisers and readers recognize the need to temporarily reduce cost and make the necessary changes.

Town attorney choice
In the February 16 Cave Creek council meeting four council members voted to retain Mariscal Weeks (MW) as the firm that provides the town attorney. These actions were documented in Linda Bentley's article last week.

The four councilmen who voted for MW were (in order) Dick Esser, Ralph Mozilo and Adam Trenk, while Mayor Vincent Francia cast the deciding vote.

If those votes aren't illegal, they are certainly unethical.

Why?

I discussed the reasons in a prior editorial. Although there are many reasons the most defining is that MW managing director, Gary Birbaum, called each of the four while his firm was in the bid process.

No disclosure has been made about what they talked about but their votes make it clear.
Why else would he call them other than please vote for my firm?

The town manager strongly endorsed a different firm than MW because MW was not performing with their cost substantially over budget and also higher than Moyes, Seller and Sims who was the other bidding competitor to MW. In lengthy discussions with Francia it finally came down to whether Francia was motivated by business or friendship with Birnbaum. Francia said business was his motivation, yet he was the swing vote, which kept the status quo.

The business aspect is critical. The town budget process allocated $7,500 per month for legal costs. Abujbarah told MW that. Yet, today, the town owes MW over $100,000 in excess of the budgeted amount. Over Abujbarah's objections, MW began sending their over budget invoices to Francia's home. Birnbaum has made it clear he expects the town to pay the amount owed in spite of the fact that it greatly exceeds town plans.

The action by Esser, Mozilo, Trenk and Francia is a slap in the face, not only to the town manager, but the entire staff who have had enough of the lack of adequate support from MW.

If they didn't write their obituaries for the next election I don't know what would.

Carefree recall election
It looks as if Carefree is now experiencing the same pressures from unionized Rural/Metro fireman as Cave Creek did in the last election. We are told by Rural/Metro Chief John Kraetz, they are merely exercising their First Amendment rights while in front of town hall wearing "Carefree Firefighters" T-shirts, led by Vice Mayor Glenn Miller clad in the same T-shirt. When the unionists pimp for Mayor David Schwan, you have to wonder what the political promises are!