Thomas J. Stewart among five killed in Sunday's helicopter crash
By Linda Bentley | February 17, 2010

'Tom was first and foremost a visionary'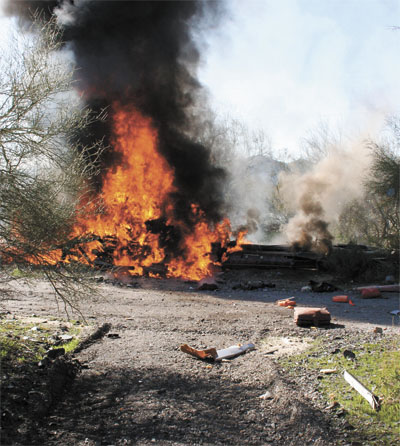 CAVE CREEK – National Transportation Safety Board (NTSA) Air Safety Investigator Tom Little held a press conference at 5 p.m. on Monday at the corner of 72nd Street and Highland Road, a stone's throw from where a Eurocopter RC135 crashed in a wash late Sunday afternoon, just missing a number of homes and scattering debris over a three-quarter-mile area. More...

Described as a horrific scene, Sunday afternoon's helicopter crash that left five people, including a five-year-old child, and two dogs dead, occurred in a wash adjacent to several homes in the vicinity of 72nd Street and Highland Road. The smoke from the fiery explosion could be seen from miles away.
Photo by John Hoeppner

Town renews contract with Mariscal, Weeks, McIntyre & Friedlander
By Linda Bentley | February 17, 2010
CAVE CREEK – During Tuesday night's council meeting, Attorney Gary Birnbaum from the law firm Mariscal, Weeks, McIntyre & Friedlander (MWM&F) said he was honored to have represented the town over the past 10 years, was "pretty proud" of that representation and would be honored to be able to continue to serve the town. More...

Miller leads 'Carefree Firefighter' campaign for Mayor Schwan
By Linda Bentley | February 17, 2010
CAREFREE – Vice Mayor Glenn Miller wore a "Carefree Firefighter" T-shirt, along with a number of Rural/Metro firefighters, as they consolidated efforts in front of the Carefree Post Office on Tuesday morning to show their support for Mayor David Schwan. More...

'Friends of Spur Cross' spirit lives on in BMES 4th/5th Graders!
By Pete Mohr | February 17, 2010
Disney's "Planet Challenge" prize money, if won, would help fund F.O.R.C.E. land purchase
CAVE CREEK – In the winter of 1997, Creeker preservationists Gary Schmitt, Tim Thurman (now deceased) and Gail Clement laid down on the proverbial "tracks" to halt (temporarily, at least) "The John Lang Express" that was racing, all-but-unimpeded, toward development of an exclusive golfing-residential community on Spur Cross Ranch. More...
CCUSD taking heat over middle school closure and prep academies
By Linda Bentley | February 17, 2010
CCUSD – Call to the Public during the Feb. 9 governing board meeting brought Sandra Creston to the microphone to say she had many questions after attending the meetings about the closure of Desert Arroyo Middle School (DAMS) and it appeared 80 percent of the parents surveyed didn't want to switch their children to Sonoran Trails near the district's southern boundary. More...
Obituaries
February 17, 2010