Flags for Our Fallen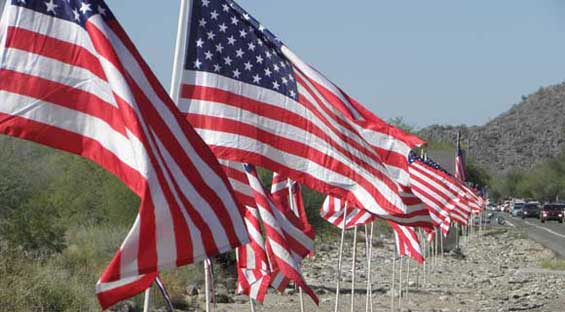 PHOTO BY LINDA BENTLEY


Riders U.S.A. (United for a Sovereign America) held its ninth annual Flags for Our Fallen
Memorial Day event at the corner of Cave Creek and Pinnacle Peak roads all weekend
long with a display of more than 260 flags and over 350 ribbons emblazoned
with the names of those who paid the ultimate price.


To have your photo considered for publication, please send the original high resolution
jpeg file to news@sonorannews.com with Front Page Photo in the subject line. Be sure to
include your name, the date, time of day and general location where the photo was taken,
plus your permission to publish the photo.

VOL. 21 ISSUE NO. 21 | MAY 27 – JUNE 2, 2015
CAVE CREEK – Since council removed Vice Chair Eileen Wright from the planning commission on May 18, the commission unanimously elected Commissioner Bob Voris as vice chair with Commissioner Bruce McNeil appearing telephonically.


'MY VIEW' | BY DON SORCHYCH
In the distant past our council had nerve and was willing to make sometimes unpopular decisions. In other words they had guts. But when a large percentage of the population has a certain attitude about anything it should be easy for a council majority to do their will.
CSHS – In a student's K-12 years, there's no event more celebratory than his/her high school graduation, more than confirmed by the 404 seniors who graduated Cactus Shadows, the evening of May 21, at Grand Canyon University's Arena, a state-of-the-art new facility that opened in 2011.
As summertime approaches and the sun's rays become more and more intense, people tend to start sweating more and wearing fewer clothes. While your pets may be stuck with their fur coats year-round, there are things that you can do to get them ready for the impending heat.