Albino Gambel's Quail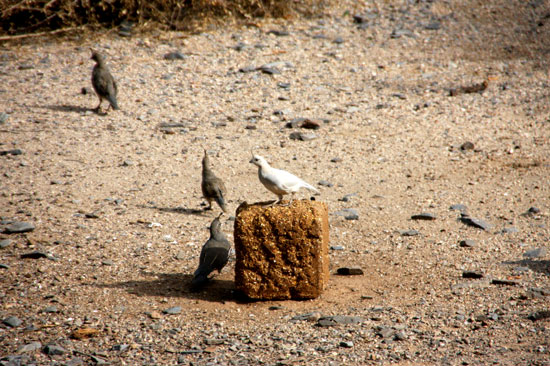 Photo by Bruce McNeil

To have your photo considered for publication, please send the original high resolution jpeg file to news@sonorannews.com with Front Page Photo in the subject line. Be sure to include your name, the date, time of day and general location where the photo was taken, plus your permission to publish the photo.


'In the absence of any real leadership at town hall, maybe we should take the lead and see if we can get ASU on board'


CAREFREE – Developer Ed Lewis chimed in over the weekend via e-mail regarding the "Carefree cultural draw debate," which appears to be on a collision course with business and commercial property owners at odds with the mayor and vice mayor's vision and public statements for the revitalization of Carefree's town center.
'MY VIEW' | BY DON SORCHYCH
I received this email from the Democrat gubernatorial candidate, who if elected, would be worse than Janet Napolitano:

Russell Pearce Should Be Fired
Phoenix, AZ – Business and education leader Fred DuVal, who is running for Arizona governor, today released a statement in response to the ongoing controversy surrounding Russell Pearce.



CAVE CREEK – Parents, teachers and supporters of seven area schools are invited to the 2nd Annual Oktoberfest PTO Charity Event at Harold's Cave Creek Corral on Sat., Oct. 4.
Second annual event hosted by Triple R Horse Rescue to help horses in need
CAVE CREEK – Triple R Horse Rescue will host the second annual Hope for Horses Gala on October 11, 2014 from 5 – 9 p.m. at the Carefree Resort and Conference Center in Carefree, Ariz., which is located at 37220 Mule Train Road.