Statuesque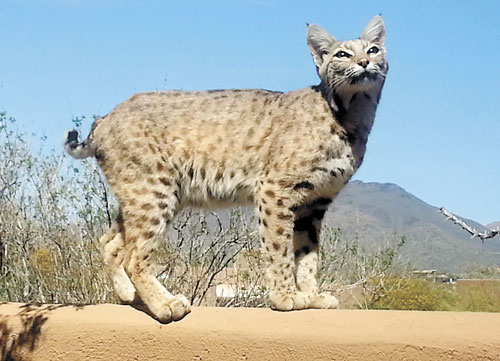 Bobcat sightings are not uncommon these days in our Sonoran Desert communities but it is rare to catch such a stunning pose as this one taken near Carefree Sky Ranch. Photo by Don Bodnar
CAVE CREEK – As Sonoran News went to press on Tuesday evening, the Cave Creek Caring Citizens political action committee (PAC) stated it has collected well more than the 293 valid signatures required to recall the four slate council members: Vice Mayor Adam Trenk and councilmen Mike Durkin, Reg Monachino and Charles Spitzer.
'MY VIEW' BY DON SORCHYCH
The term coined by Rush Limbaugh, "low information voters" is as true here as in the rest of the nation. What petition collectors for challengers to the slate are hearing as they go door to door is about thirty percent who have no clue about what has and what is going on at town hall. They don't know Town Manager Usama Abujbarah was savagely fired for no reason by the slate (Adam Trenk, Reg Monachino, Mike Durkin and Charles Spitzer) led by Trenk, who used his majority to become Vice Mayor. Mayor Vincent Francia took a typical politician's position and let Trenk carry the day.
The Desert Awareness Committee of FCF will hold two special WALK & TALK events at Desert Awareness Park, corner of Cave Creek and Vermeersch Rds. on May 10 and May 13.
SCOTTSDALE – If you're having an Easter egg hunt this weekend, be aware that rattlesnakes may like the same hiding spots you are planning to stash those eggs.