Desert Visitor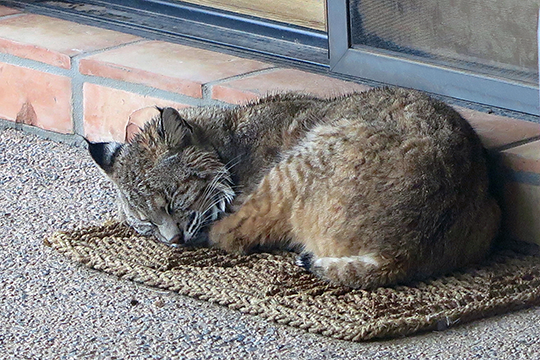 During our heavy rain on January 7th, this bobcat decided to keep dry by sleeping on my doormat the entire morning. I thought it looked really cute. Photo by Hazel Vaughn, Carefree.
VOL. 22 ISSUE NO. 6
CAVE CREEK – In November, Morningstar Road Properties, Inc., formerly Cahava Springs Corp., filed a complaint in Maricopa County Superior Court against Gerald and Janice Freeman who have refused to remove signs they have posted on Morningstar's property at the entry to an easement that traverses Morningstar's properties to access their home at the opposite end of the easement.
'MY VIEW' | BY DON SORCHYCH
Since this issue is online and the votes in New Hampshire were on Tuesday we are reporting the results on Wednesday. The bombshell this week has been that Donald Trump would win the Iowa Caucus, but he came in second to Ted Cruz with Marco Rubio close behind.


Guest Editorials:
On Friday, February 5 the Cactus Shadows Varsity Falcons matched up against the Notre Dame Saints for the final game of the season. The stands filled with family members ready to watch their senior play his final game in a Falcons uniform on the annual CSHS Basketball Senior Night.