Rain downs saguaro during Saturday's storm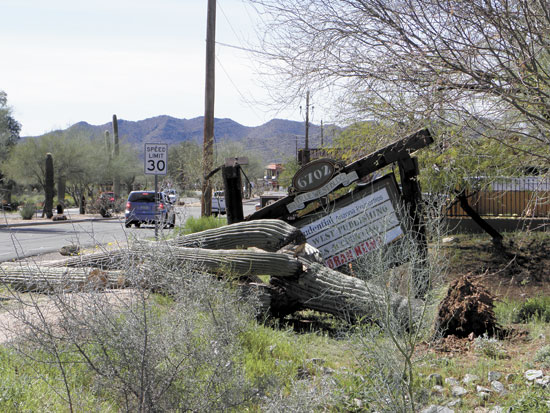 This saguaro used to stand tall in front of the building where Sonoran News is located but it was no match for the 1.7 inches of rain Mother Nature dished out with Saturday's storm. The saguaro also damaged the building's sign as it came crashing down. Photo by Linda Bentley

To have your photo considered for publication, please send the original high resolution jpeg file to news@sonorannews.com with Front Page Photo in the subject line. Be sure to include your name, the date, time of day and general location where the photo was taken, plus your permission to publish the photo.
CAVE CREEK – Town council met Monday afternoon for a retreat, an informal working session to hash out the upcoming year's agenda.

They discussed the Fiscal Year 2015 Budget to provide staff with direction and guidance pertaining to operations and capital improvement and the 4,000 acres of state land the town wishes to acquire as open space.

'MY VIEW' BY DON SORCHYCH
Parallels exist between the recent election in Cave Creek and the national election giving Obama the power to change our country and not for the better.

The biggest parallel is lies. I am sure, if you are online much, you have seen lengthy lists of lies told by Obama. You won't find the lists in papers like the Arizona Republic, which persists in calling illegal aliens "migrants" – a violation of dictionary ethics.
Arizona Humanities speaker Dr. Todd W. Bostwick, PH.D., RPA presents a recently created lecture on "Native American Salt Procurement, Use, and Rituals in the American Southwest." He has a Masters Degree in Anthropology and PH.D. in History from Arizona State University with 35 years of archaeological research experience in the American Southwest.

One of the more common referrals we get at Dove Valley Animal Hospital is for a second opinion on Anterior Cruciate Ligament (ACL) rupture. ACL rupture is one of the more common rear leg injuries in active large breed dogs.