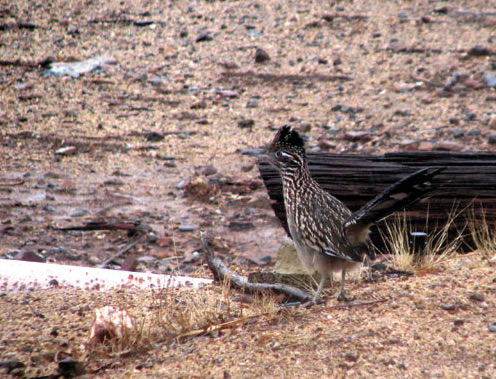 This roadrunner was photographed near a home in the New River area on Friday, Oct. 22.
Photo by Sue Newbanks

To have your photo considered for publication, please send the original high resolution jpeg file to news@sonorannews.com with Front Page Photo in the subject line. Be sure to include your name, the date, time of day and general location where the photo was taken, plus your permission to publish the photo.
The three finalists include Peter Jankowski from Mass., James Palenick from N.C. and Himanshu Patel from Florence, Ariz.

CAVE CREEK – With no one wishing to speak during Call to the Public, Interim Town Manager Rodney Glassman presented plaques from ASU to both Vice Mayor Adam Trenk and Councilman Mike Durkin because they were both alumni.


'MY VIEW' BY DON SORCHYCH
Mayor Vincent Francia thinks his job is to mentor people who want his job. His thinking must be if he does favors for his competitors they will patiently wait for his retirement and then step into his position. The pending recalls include him but he thinks his statements here and there that he will retire in 3 years protect his last term.



CAVE CREEK – As the sun sets on the evening of Sat., Dec. 7, hundreds of runners, joggers, walkers, families and friends will gather to participate in the 11th Annual Cave Creek Luminaria Run amidst the beautiful desert mountains and hills of the Cave Creek Regional Park.

It's time again for pet pictures with Santa at Dove Valley Animal Hospital. From 9 a.m. to 12 on Dec. 7 come out for holiday fun – refreshments, vouchers for toenail clips, giveaways and a chance to meet the staff or wish them good tidings.