JUNE 29, 2016
Lone Wolf (Hart M. Schultz): Cowboy, Actor & Artist Exhibition at Scottsdale's Museum of the West through August 31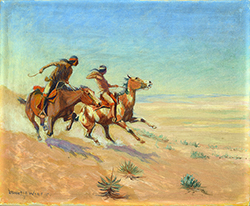 Exhibition
: Lone Wolf (Hart M. Schultz): Cowboy, Actor & Artist
Dates
: June 21, 2016 through August 31, 2016
Location
: Western Spirit: Scottsdale's Museum of the West, 3830 N. Marshall Way, Scottsdale, AZ 85251
Price
: Included with museum admission: $13, adults; $11, seniors (65+) and active military; $8, students (with ID) and children (6-17); and free to museum members and children 5 and under.
Info
: 480-686-9539
Website
:
www.scottsdalemuseumwest.org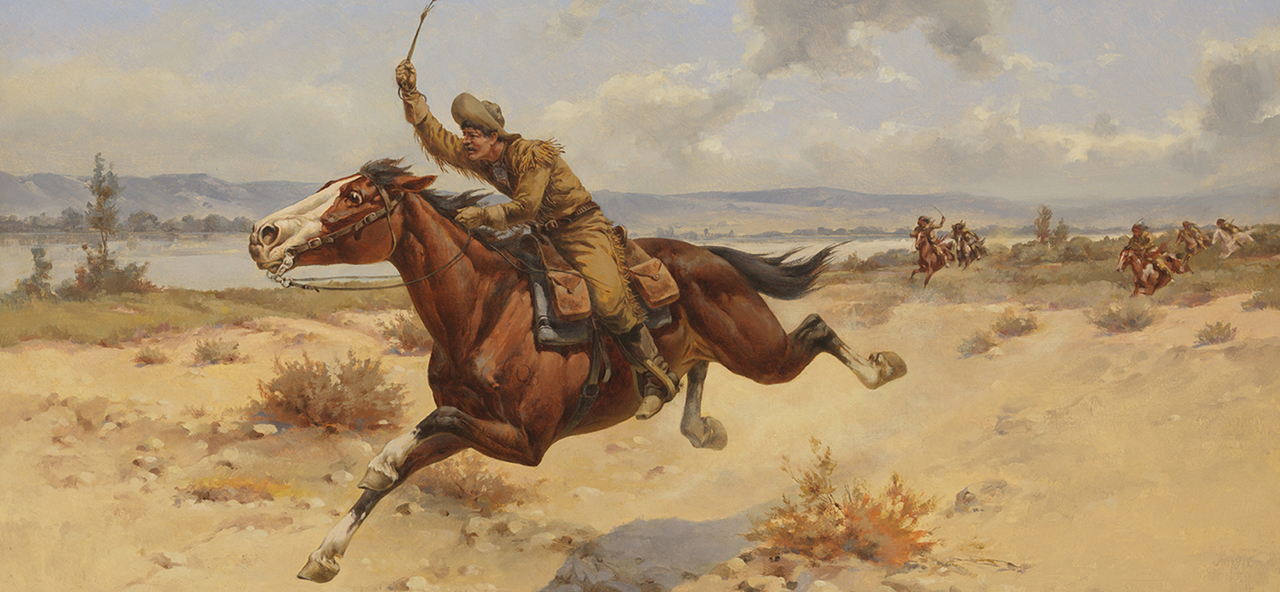 Museum Hours
:
Tues., Wed., Fri., Sat.: 9:30 a.m. - 5 p.m.
Thursday: 9:30 a.m. - 9 p.m.
Sunday: 11 a.m. - 5 p.m.
Closed Monday
SCOTTSDALE, ARIZONA. — Western Spirit: Scottsdale's Museum of the West this summer is presenting an exhibition showcasing the artistic talent and intriguing life story of Lone Wolf (aka Hart M. Schultz; 1883-1970), a Blackfeet Indian artist who played a significant role in capturing the accounts of the individuals and events that shaped the American frontier during the first half of the 20th century. He was among the first American Indian artists to paint in an academic style, and is one of the most important Glacier National Park artists.
"Lone Wolf (Hart M. Schultz): Cowboy, Actor & Artist" opened June 21 and will remain on view through August 31, 2016. The museum is located in downtown Scottsdale at 3830 N. Marshall Way, near the Main Street art galleries and Old Town Scottsdale. It was named a Smithsonian Affiliate in 2015 and in January 2016 was named "Best Western Museum" in the United States in an annual ranking by True West magazine.
The exhibition features oil paintings, rare bronze sculptures, pen and ink illustrations, illustrated letterhead and ephemera. The exhibition also features rare video footage including a recorded interview with the artist as he talks about his life and artistic inspirations. Another interview filmed after the artist's death with his adopted son and Arizona artist, the late Paul Dyck, contributes to the telling of Schultz's story and his contributions to the history and art of the American West.
A children's activity area provides opportunities to learn about animal tracks (essential knowledge that American Indian parents taught their children), and the sign language that allowed tribes to communicate with one another.
Underappreciated today, during his lifetime Schultz traveled in artistic circles that included titans of American art including Frederic Remington, Charles Russell and Thomas Moran. His paintings and sculptures of American Indian rituals, the Grand Canyon and cowboy life could be seen in Paris, London and Italy as well as New York, Los Angeles, and the states of Montana and Arizona, where he made his winter and summer homes. His clients included President Theodore Roosevelt, Buffalo Bill Cody, Charles Russell, President Herbert Hoover and the Santa Fe Railroad.
"Although his name is lesser-known among the icons of Western art, Hart Merriam Schultz (Lone Wolf) played no less indelible a role in capturing the accounts of people who shaped the Western frontier, as well as producing romanticized images that helped create and define a mythic West for popular culture," commented Tricia Loscher, the museum's chief curator and curator of the exhibition.
"Schultz considered himself the bridge between the culture of his mother's Blackfeet people, and the European-American culture of his father," she said. "It is my great hope that this exhibition will serve to promote further investigation into Schultz's life and artistic career, and to encourage dialogue between American Indian and Western American art historians."
"We are excited and privileged to bring Hart Merriam Schultz's art and legacy to the public," commented Museum Director and CEO Mike Fox. "This wonderful exhibition is made possible through the support of numerous institutions and private collectors who contributed in various ways, including the Museum of the Plains Indian and Crafts Center, the Montana Historical Society, the Sheldon Museum of Art at the University of Nebraska-Lincoln, the Adelante Foundation, the Burlington Northern Santa Fe Railway and the Butterfly Lodge Museum."

The Making of an Artist
Born in 1883 on the Blackfeet Reservation of Montana, Schultz was the son of Fine Shield Woman, whose family played a major role in his artistic development beginning in early childhood, and the prolific Western book author James Willard Schultz.
His experiences as a member of the Blackfeet tribe and his other life experiences strongly influenced Schultz's personal identity, and allowed him to interpret the West through both Native and Anglo eyes.
As a teen he went to work on a ranch where he entertained the other cowboys with sketches of their daily life. Some said he could ride anything on four feet, and paint anything. Schultz was self-effacing about his cowpunching talents, saying, "I have roped many critters and I rode a bronc, and have been thrown so high that the birds started building nests on me before I hit the ground."
Schultz's income as a cowboy often provided the necessary funding for sketching trips into the northern Arizona wilderness near the family's cabin in the town of Greer, or on the northern Montana range.
In 1909, Schultz left Montana to work briefly as a screen actor for James Young Deer of Pathe Films in Edendale, Los Angeles. Young Deer was the first American Indian filmmaker and producer in Hollywood, producing one-reel Westerns during the first part of the silent film era. Young Deer is credited for his positive portrayal of American Indian people in his films.
According to Schultz, he began seriously producing art in 1909 while working in Arizona at the Grand Canyon as a wrangler, trail guide and artist. While there he met artist Thomas Moran who befriended and encouraged the young man. Schultz followed Moran's advice, and for a short time studied at the Art Institute of Chicago and the Art Students League of Los Angeles.
His first one-man show took place in 1917 in Los Angeles, which brought him national attention and acclaim. During the 1920s, Schultz became successful as a professional artist who creatively translated to bronze and canvas the observations and accounts his Blackfeet elders shared with him through their stories, and his own life experiences in the American West. After visiting New York in the 1920s, a headline in the Evening Telegram proclaimed: "A Real Indian Painter Paints Indian Life."
Deep Roots in Montana and Arizona
The artist's father, James Willard Schultz, first came to Arizona to finish his first book "My Life as an Indian" (1907). From 1906 to 1908, the elder Schultz lived and worked on the Tohono O'odham reservation, assisting archaeologist Jesse Walter Fewkes as he excavated the Hohokam ruins of Casa Grande. In 1913, the elder Schultz's hunting lodge was built in the northern Arizona town of Greer. It was named Butterfly Lodge after the countless butterflies attracted to the wildflowers surrounding the lodge.
The younger Schultz often spent summers with his father at Butterfly Lodge. The lodge was eventually gifted to him and his wife Naomah, who used it as an art studio in the winter and spring. During the summers they set up a studio at Glacier National Park, where his father had worked years earlier as a trapper and guide.
By 1918, Schultz was wintering in Tucson, Arizona at La Osa Ranch, which was owned by local businessman Jack C. Kinney, the artist's chief patron and "the greatest friend I have." Summers were spent in his studio-homes located in Greer, Arizona and St. Mary's Lake, Montana.
Schultz sometimes participated in the Tucson rodeo parade known as the Fiesta de los Vaqueros, wearing his Blackfeet regalia astride a white Morgan horse.
In 1970, Schultz passed away in Tucson. The scope of his lifetime experience spanned the time when free-roaming buffalo were a vital resource to American Indians, to the first man on the moon. His ashes were returned to Montana for burial in the grave with his uncle, Last Rider. Four willow wands crowned by eagle feathers marked the grave.