JUNE 22, 2016
Two dedicated girls rally for wolves


The future for wolves is looking up thanks to two special young ladies. Brianna Edwards and Madalynn Zepp created a charity called "Lobo Paws."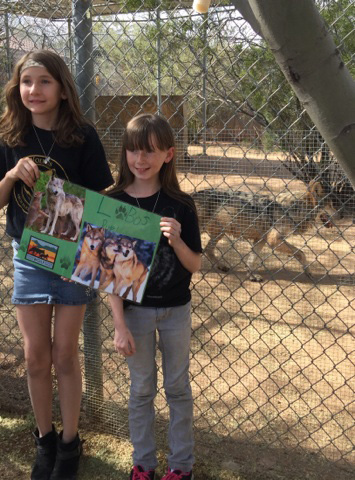 Their goal is to help save wolves and spread awareness of the plight of the Mexican gray wolf. Their charity's fundraising efforts included holding a booth at the Avondale Kidsfest, putting on their own yard sale fundraiser, collecting prizes for a raffle and selling raffle tickets and a school fundraiser. They raised $1,048.00 for Southwest Wildlife!

Along with the money, they also collected about four bins of items from our Wish List through their school! Howls of thanks to Brianna and Madalynn and everyone who supported their good work for wolves!

Wild about Wildlife? Become a monthly donor by joining our Wild Family! Monthly giving is the easiest way to support Southwest Wildlife's work for wildlife. When you sign up to join our Wild Family with a monthly gift, you're providing a consistent, reliable stream of income that we can count on – like family – to always be there. Your recurring donation helps cover the cost of care for the latest arrivals needing urgent help, and ensures good care for those rescues which need a comfortable home for life.

To donate and support the work of Southwest Wildlife visit www.southwestwildlife.org/donate/wildfamily/wf.html.

As part of our Wild Family you'll receive special updates of our Southwest Wildlife Wild Family animals and previews of new arrivals, with comments from our veterinarians, care staff and volunteers. You will also be invited to attend our Family Reunion, an annual event just for family members held at the Southwest Wildlife facility.

Southwest Wildlife is located at 27026 N. 156th St., Scottsdale, AZ 85262. Phone 480-471-9109.

Education/Events: E-mail education@southwestwildlife.org PMB 115, 8711 E. Pinnacle Peak Road, Scottsdale, AZ 85255

Wildlife Emergencies: 480-471-9109

Wildlife Education: 480-471-3621 Visit www.southwestwildlife.org.