June 15, 2016
Yuma Sector Border Patrol agents foil weekend smuggling at I-8 checkpoint


Arrests made for alien and narcotics smuggling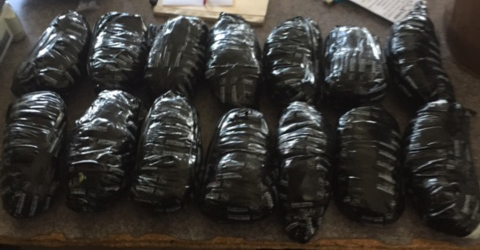 Yuma Sector Border Patrol agents working at the Interstate 8 immigration checkpoint thwarted two smuggling attempts resulting in arrests for alien and narcotics smuggling this past weekend.
Agents arrested a male U.S. citizen who attempted to smuggle four illegal aliens. The man tried to avoid inspection by circumventing the checkpoint through Dome Valley on Friday morning.
On Saturday afternoon, a male Mexican national was arrested at the checkpoint for narcotics smuggling. The driver, in possession of an I-94 and a Border Crossing card, was referred for a secondary inspection after a canine detection team alerted to the vehicle he was driving. Agents discovered nearly 17 pounds of methamphetamine, valued at an estimated $51,000, hidden in the vehicle's engine compartment.
The suspects, narcotics, and vehicles were processed per Yuma Sector guidelines in both incidents.
Federal law allows agents to charge individuals by complaint, a method that allows the filing of charges for criminal activity without inferring guilt. An individual is presumed innocent unless or until competent evidence is presented to a jury that establishes guilt beyond a reasonable doubt.
Yuma Sector Border Patrol agents effectively combat smuggling organizations attempting to illegally transport people and contraband through southwestern Arizona and California. Citizens can help the Border Patrol and U.S. Customs and Border Protection by calling 1-866-999-8727 toll-free to report suspicious activity. Callers can remain anonymous.
Nogales CBP Officers seize meth from smuggler's SUV
Customs and Border Protection officers arrested a female Mexican national when she allegedly attempted to smuggle nearly 51 pounds of methamphetamine through the Port of Nogales over the weekend.
CBP officers at the Dennis DeConcini crossing referred a 45-year-old Obregon, Sonora, Mexico, resident for further inspection of her Mitsubishi SUV on June 11. The search led to the discovery of multiple packages of methamphetamine, worth approximately $153,000, concealed in the vehicle's firewall.
Officers turned the suspect over to U.S. Immigration and Customs Enforcement's Homeland Security Investigations after seizing the drugs and the vehicle.
Nogales Port Director Guadalupe Ramirez credited the experience of his personnel for the successful seizure.
"Our CBP officers have always produced effective results when it comes to interdicting illegal contraband," he said. "They have and will continue to make it difficult for criminal organizations to smuggle drugs through our ports of entry."
Assault on Yuma Sector Border Patrol Agent results in shooting
A Yuma Sector Border Patrol agent discharged his service-issued weapon while being assaulted by an adult male who crossed illegally into the United States near Somerton, Arizona, Thursday night at approximately 10:00 p.m.
"During the arrest, the subject grabbed the agent's radio and collapsible steel baton and began striking him in the face and head while he also attempted to remove the Agent's sidearm from its holster. The agent, fearing for his life, discharged his weapon, which struck the suspect.
Both the agent and suspect were transported to Yuma Regional Medical Center via ambulance, where medical professionals were unable to resuscitate the suspect and he was pronounced dead.
The agent sustained multiple bruises and lacerations to his head, face and torso, one of which required stitches to close the wound. He was also diagnosed with a concussion.
In accordance with CBP Policy, the agent has been placed on administrative leave.
Customs and Border Protection's Use of Force Incident Team, the lead investigative agency, was assisted by the Federal Bureau of Investigation in processing the scene. The U.S. Border Patrol is fully cooperating with this investigation."
Nogales CBP Officers seize "bumper" full of heroin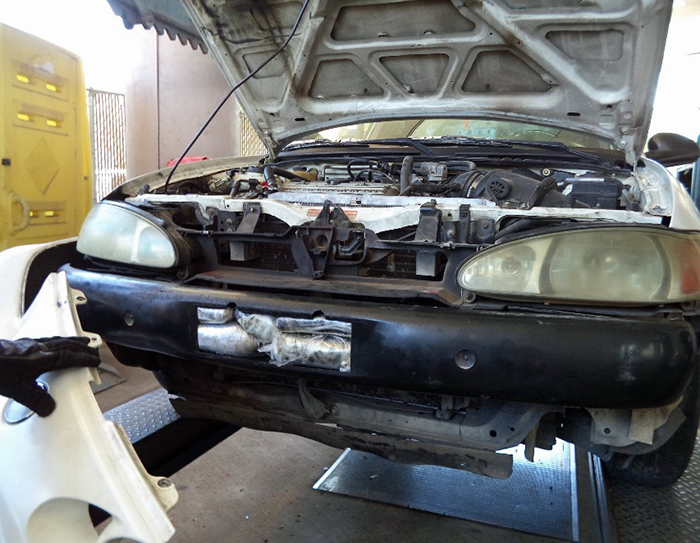 Customs and Border Protection officers arrested a Mexican national June 8, after finding nearly $298,000 worth of heroin hidden in the vehicle he was driving.
Officers working at the Port of Nogales' Dennis DeConcini crossing referred the 27-year-old man for a secondary inspection of his Ford sedan which lead to them discovering multiple packages containing more than 17 pounds of the drug within the front bumper.
Officers seized the drugs and vehicle, before turning the subject over to U.S. Immigration and Customs Enforcement's Homeland Security Investigations.
Nogales Border Patrol Agents Arrest Three U.S. Citizens for Smuggling a 'Cocktail' of Drugs at I-19 Checkpoint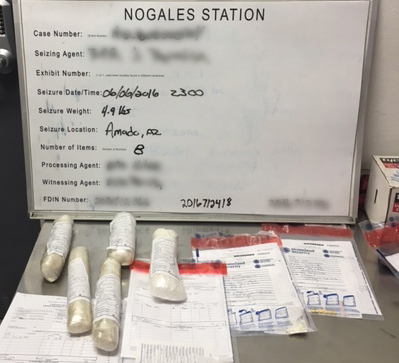 Tucson Sector Border Patrol agents assigned to the Nogales Station arrested three United States citizens for smuggling methamphetamine and other controlled substances at the I-19 checkpoint on June 6.
Agents referred the vehicle for a secondary inspection after a canine team alerted to the vehicle during an immigration inspection. Agents searched the driver and two passengers of the vehicle during the secondary inspection.
Agents observed suspicious bundles in the male passenger's socks and discovered additional bundles concealed on his body after an additional search. The bundles were found to contain methamphetamine after closer inspection.
A search of the female passenger revealed a mixture of drugs concealed under her clothing. She was carrying a package containing marijuana, cyclobenzaprine, methamphetamine and amitriptyline.
Agents seized more than five pounds of contraband with an estimated value of more than $15,000. Both passengers and the driver of the vehicle have been submitted for prosecution for narcotics smuggling.
Customs and Border Protection welcomes assistance from the community. Citizens can report suspicious activity to the Border Patrol and remain anonymous by calling 1-877-872-7435 toll free.
Border Patrol Agents arrest 4 with active warrants
Four individuals were arrested by Yuma Sector Border Patrol agents in separate incidents, over the past few days.
A vehicle attempting to pass through the Interstate 8 checkpoint east of Yuma was referred to secondary inspection, Monday afternoon, June 6, leading to the arrest of two U.S. citizens. Both had active warrants, one from Tucson, and the other from Yuma County Sheriff's Office. Both were turned over to the Department of Public Safety.
In incidents Sunday afternoon and Monday morning, two illegal aliens were arrested by agents. One near Las Palomas Ranch, and the other along the west side of the Granite Mountains. Both had warrants from the Arizona Department of Corrections (DOC) and will be returned to DOC to complete the remainder of their sentences.
Also over the weekend, agents assisted La Paz County Sheriff's Office in determining that a subject in their custody was illegally present in the U.S. for alleged armed robbery.
Nogales CBP officers seize $236K in hard drugs within two days
Customs and Border Protection officers arrested a U.S. citizen and a Mexican national from neighboring Nogales, Sonora, Mexico, during mix-load smuggling attempts at the Area Ports of Nogales within two days of one another.
On June 4, CBP officers working at the Dennis DeConcini crossing referred a 24-year-old Mexican national for an inspection of his Chrysler sedan. Officers found 23 pounds of meth worth more than $69,000 and three pounds of heroin worth more than $54,000 within the front center hump of the vehicle after a CBP narcotics-detection canine alert.
Two days later, officers referred a 32-year-old woman for a secondary inspection of her Chevy van on June 6, at the Mariposa crossing. Officers discovered almost 21 pounds of meth worth nearly $63,000 after a positive CBP narcotics detection canine alert. Officers discovered nearly three pounds of heroin worth nearly $48,000 within the passenger side of the vehicle's front fender.
Officers seized both vehicles, all the discovered narcotics, and turned both subjects over to U.S. Immigration and Customs Enforcement's Homeland Security Investigations.