JUNE 15, 2016
Big Brothers Big Sisters seeks teams to Bowl for Kids' Sake

Community bowling party fundraisers support Big Brothers Big Sisters of Central Arizona mentoring programs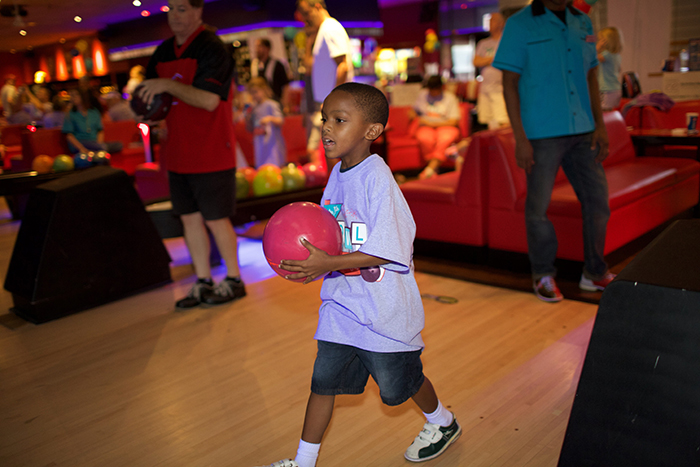 PHOENIX – Big Brothers Big Sisters of Central Arizona (BBBSAZ) is looking for individuals and organizations to participate in its annual Bowl for Kids' Sake community bowling event. The community bowling parties will be held on Sunday, June 18, at two locations: AMF Tempe Village 10 a.m. - 12 p.m. and 1 p.m. - 3 p.m., and AMF Union Hills 10 a.m. -12 p.m.
"This is a fabulous valley-wide event that brings the whole community together to support the Big Brothers Big Sisters vision that all children achieve success in life," said BBBSAZ Director of Development Jessica Whitney. "This year's theme is 'Be a Hero!' so we encourage fun costumes and creative team names, with a little friendly rivalry thrown in. It's a fun way for anyone to show support for youth in our community by participating in this event as a bowler, team captain, or sponsor."
Individuals can be part of the community bowling party by becoming team captains and recruiting friends to bowl with them, or by joining another bowler's team. Businesses can participate by donating prizes, being sponsors and encouraging their employees to be team captains, or by sponsoring their own private corporate bowling event fundraiser. Each bowler is encouraged to donate or raise a minimum of $100 and is treated to a festive family bowling party that includes bowling time, DJ, costume contests, games, food, beverages, entertainment and surprises.
Bowl for Kids' Sake is Big Brothers Big Sisters' largest national fundraiser, raising more than $20 million annually for youth mentoring programs across the country. Locally, 300 individuals participated in the Bowl for Kids' Sake community bowling party last year, with several companies holding private events.
"The success of this event relies on community participation. We know not everyone can volunteer as a Big Brother or Big Sister to a child, yet by participating in this event, anyone can 'Be a Hero!' and help put a child on the path to success," said Whitney.
To take part in this year's event, visit
www.bbbsaz.kintera.org/bfks2016
or call (602) 264-9254 to register as a team captain or team member, and to start collecting pledges. Businesses wishing to participate as a sponsor or to host a private event can contact Jessica Whitney at
www.jwhitney@bbbsaz.org
or 602-393-4115.