JUNE 8, 2016
Grand Canyon National Park gets its stamp of approval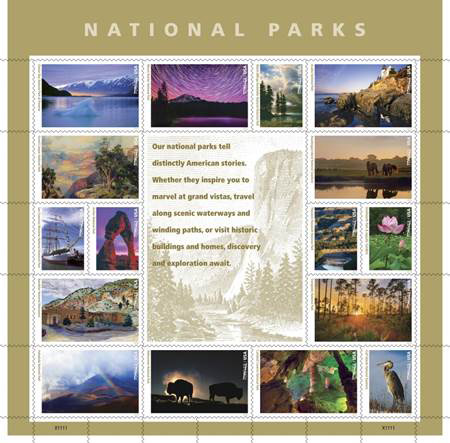 GRAND CANYON, Arizona — A local dedication ceremony today marked the issuance of a stamp depicting the magnificent beauty of Grand Canyon National Park – one of 16 stamps commemorating the National Park Service's 100th anniversary. The public is asked to share the news of the stamps' issuance on social media by using the hashtags #NPSStamps, #FindYourPark or #NPS100.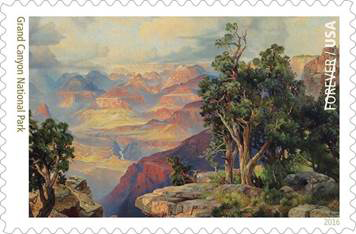 The ceremony took place at the park's McKee Amphitheater today and was one of more than a dozen such events taking place at National Park locations nationwide.

"It is easy to see why the Grand Canyon, along with our country's more than 400 national parks and memorials, have been called 'national treasures,' 'America's classroom,' and 'the best idea we ever had,'" said Guy Cottrell, Chief Inspector for the U.S. Postal Inspection Service, during today's ceremony.

Postmaster General Megan J. Brennan and National Park Service Deputy Operations Director Peggy O'Dell participated in the national dedication ceremony in New York City at the world's largest stamp show that only takes place in the United States once a decade, World Stamp Show-NY 2016. More than 250,000 visitors are projected to visit the show that runs through Saturday.

The Grand Canyon stamp image is a detail of a chromolithograph-on-canvas, "The Grand Canyon of Arizona, from Hermit Rim Road," by artist Thomas Moran (1837-1926). Unique combinations of geologic color and erosional forms decorate a canyon that is 277 river miles long, up to 18 miles wide and one mile deep.

The 16 National Park Service sites honored on Forever Stamps include: Acadia National Park, Arches National Park, Assateague Island National Seashore, Bandelier National Monument, Carlsbad Caverns National Park, Everglades National Park, Glacier Bay National Park and Preserve, Grand Canyon National Park, Gulf Islands National Seashore, Haleakalā National Park, Kenilworth Park & Aquatic Gardens, Marsh-Billings-Rockefeller National Historical Park, Mount Rainier National Park, San Francisco Maritime National Historic Park, Theodore Roosevelt National Park and Yellowstone National Park.