May 25, 2016
Cactus Shadows graduates 396 seniors at
May 19, 2016 commencement

Class of 2016 earns $10.8 million in scholarships and financial grants
GRAND CANYON UNIVERSITY – May 19. "Six-teen can-duls … wah-oo uh-wah-oo, uh-wah … make a love-lee day-ay:" Older readers (like this writer) may remember nostalgically that classic doo-wop ballad from the late Fifties. Cactus Shadows High School's Class of 2016 would tell you those same 16 candles also made a lovely night, as they, 396 strong, celebrated their high school graduation the evening of May 19. It was Cactus Shadows' 31st Commencement, held for the second consecutive year at Grand Canyon University's on-campus arena.


E pluribus unum, in this case, one out 396 Seniors was Miss Taylor Brown, shaking hands with Principal Dr. Bebee after receiving her diploma certificate. Athletic Director Mike Siwek smiles his congratulations. Taylor is the daughter of Creekers Gina and Scott Brown.

There is no "perfect" commencement venue; but with ample seating capacity, accessible amenities and site-convenient parking, put down GCU as "close enough" (to perfect) for government work. Congratulations again to Principal Dr. Steve Bebee and his search committee for finding Cactus Shadows such a comfortable and efficient graduation setting.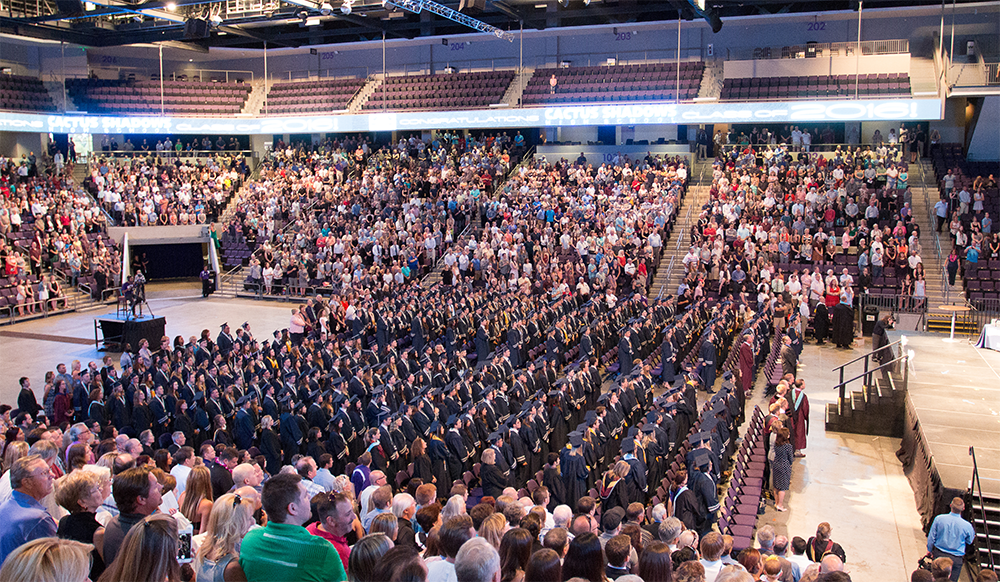 Oh, give them a home...in the "Antelopes Dome": Cactus Shadows' class of 2016 graduating at Grand Canyon University's arena.

Graduation week started on a high note, Monday evening, May 16, at Cactus Shadows Fine Arts Center, when Dr. Bebee proudly announced to the Senior Awards Night audience that the Class of 2016 had earned $10.8 million in college scholarships and financial grants. Dr. Bebee phrased, "The class of 2016 has left its mark on Cactus Shadows in a very positive way. We wish them well in their future endeavors." Sonoran News congratulates all award winners and their CSHS faculty sponsors who supported their academic achievement.

No choral group sings "The Star Spangled Banner" more stirringly than Music Director Gary Wykoff's Honors Choir. Following their performance of our National Anthem and Pledge of Allegiance by Aubrey Barnett, Dr. Bebee welcomed the audience, then extended his congratulations to the graduating seniors. Superintendent Dr. Debbi Burdick, speaking for her CCUSD School Board, followed with her congratulatory address to the class and her encouragements for their future.

Next, responding for '16, were Student Body President Alli Mazella and Valedictorian Nicole Curnutt, their remarks enthusiastically received by their classmates. Honors Choir then performed "For Good."

School Board President Mark Warren accepted the class, then joined certain members of the Board and CSHS faculty in presenting diploma certificates to each graduating senior as their names were called individually, accompanied by the usual shouts and acclamations from their families and guests. Dr. Bebee, you can't keep a good air-horn down!

Back at their seats, it was finally time to switch graduation cap tassels from right to left before exultingly tossing their caps high! Congratulations, Class of '16, you made it! Twelve years of school have been a long, hard road – but filled with forever memories. May you enjoy each one of them.

"Blow out … the can-duls … oh-oh-oh, oh-oh-wah …" Hail and farewell to 396 graduated Falcons! And to Athletic Director Mike Siwek, who is retiring June 16, after 37 years as a teacher and administrator. "Good luck, Mike!"

Have a great summer, everyone!

- Pete Mohr