may 11, 2016
Carefree Cruisers commemorate Gary "Goodguy" Meadors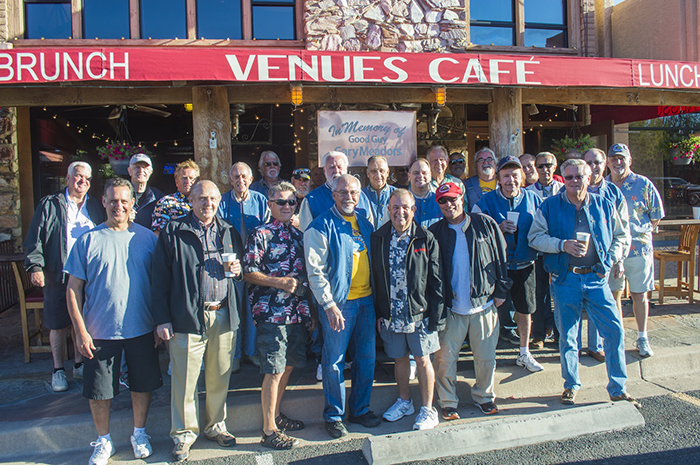 CAREFREE – Gary Meadors, founder and chairman of the Goodguys Rod and Custom Association, passed away on December 27, 2015 at the age of 76. An automotive enthusiast since childhood, Gary founded Goodguys in 1983. Under his vision, the group has since grown into a leading automotive event production company with over 70,000 members worldwide.

Growing up on a farm in the small town of Dinuba, California, Gary's passion for cars ignited at an early age. By sixteen, he had modified his first hot rod, a 1947 Plymouth. As an adult, Gary divided his time between his career as a traveling salesman and his automotive hobby. He was instrumental in the creation of the Nor-Cal Early Iron Car Club, which produced the first "Street Rod Mini Nationals" in Lodi in 1973.

Beginning in the 1970s, Gary would convene with friends to talk about their shared love of cars on Saturday mornings at a Denny's. These breakfast sessions soon evolved into the Danville Dukes, an informal group that attracted hundreds of members despite a lack of dues and official leadership. Decades later, this tradition would resurface in the outskirts of Phoenix when Gary founded the Carefree Cruisers.

Gary's passion for cars and building relationships with like-minded enthusiasts led him to establish Goodguys in 1983 with the help of Marilyn, his wife and former high school sweetheart. Among his numerous contributions to the organization, Gary initiated the publication of The Goodguys Gazette, the group's official magazine, and helped to establish the Goodguys Trendsetter Award, which has helped numerous young hot rod aficionados accelerate their careers by recognizing them as rising stars in the field. In 2009, Gary appointed his son, Marc, as president of Goodguys. This move freed him and his wife to travel the country, forging connections with car lovers along the way.

When Gary and Marilyn settled in Cave Creek, Arizona in 2010, he sought to revive the Saturday morning routine that had become so popular with the Danville Dukes. Venues Café in Carefree agreed to host a weekly cruise-in of custom cars and hot rods. At no cost, car owners and spectators can admire between 30 and 60 unique, intriguing, and often expensive automobiles in the center of Carefree, which is known for its desert gardens, quaint vibe, and sweeping mountain views. This creates a relaxed and enjoyable atmosphere for hobbyists from a variety of backgrounds to connect with one another over a shared passion.

While Gary's zeal will live on as the Carefree Cruisers continue their tradition, his presence will be greatly missed. Ernie Oakes, a member of the group, had this to say about his long-time friend and fellow car enthusiast: "You wouldn't find a nicer, friendlier, car guy in the country. Gary always had a smile and friendly handshake for everyone. As the Western Rodders Rep of Goodguys, we are going to miss Gary's passion and love of people and cars."

On March 12, Carefree Cruisers placed a copper sign at Venues Café in commemoration of Gary Meadors. The group extends its gratitude to Floyd "Skeeter" Oldewurtel, designer of the sign, and Catherine Marr, owner of Venues.

Car enthusiasts are welcome to visit the cruise-in any Saturday morning or stop into Venues to toast Gary's legacy.