May 4, 2016
May 7 is Snake Day at Phoenix Herpetological Society
Valley reptile sanctuary creates fun event to educate public about misunderstood animals
Ophidiophobia: Abnormal fear of snakes

Phoenix Herpetological Society Yellow Wetar Island Tree Viper

SCOTTSDALE — A fear of snakes… it's the second-most common phobia in the world.
On Saturday, May 7, the Phoenix Herpetological Society (PHS) is hosting a family-friendly event designed to teach the public about how snakes are beneficial, their diversity in the world, and the local (native) snakes we may encounter. Attendees can even interact with some non-venemous snakes.

Snake Day will be held from noon to 4 p.m. at the PHS sanctuary in Scottsdale, near 78th St. and Dynamite Road. Reservations are required.

This event will feature mini-tours of the sanctuary's snake collection. PHS has the largest collection of venomous snakes in the Southwest, as well as many non-venomous snakes, some of which may be adopted as pets.

Other highlights include:
• A mini-tour of the other critters at the sanctuary
• A petting zoo/interaction time with animals
• Presentations about desert safety, the reptiles that call Arizona home and how we can co-exist with them safely.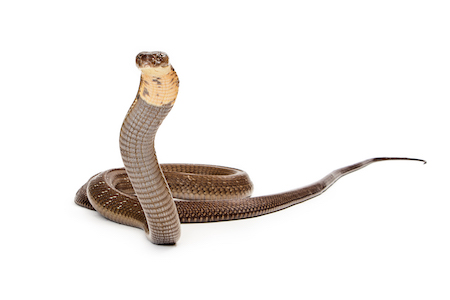 King Cobra Snake
Phoenix Herpetological Society

Tickets are $15 for adults and $10 for children (ages 4 - 17); toddlers (ages 3 and younger) are free.

For more information about PHS or to register for the event, go to www.PhoenixHerp.com. Click on the Visit tab and go to the Calendar of Events to sign up.

Meal tickets are available for purchase for $5, and include either a hamburger or hot dog, chips and a drink. They can be purchased online or at the door.

Phoenix Herpetological Society is a nonprofit organization dedicated to the rehabilitation of rescued reptiles and educating the public about living with these amazing creatures. PHS operates a reptile sanctuary on 2.5 acres of private land in north Scottsdale, which includes more than 1700 animals from around the world, including many rare or endangered species.
The sanctuary has the second-largest Crocodilian collection in the United States and the largest collection of venomous snakes in the Southwest, which are housed in a special glass-enclosed "venom room."

PHS works with state wildlife officials to care for and house reptiles, conducts research and breeding programs for endangered reptiles, and serves as a resource for humane societies across the country. It also provides education to Arizona youth, teaching co-existence, respect, understanding and responsible reptile ownership through public and private schools.