By Linda Bentley | April 20, 2016
No surprises in Cruz eligibility challenges

Williams raised the 'irregular appointment process' by which Masin self-reported that he was 'recalled' to preside over this matter
TRENTON, N.J. – After Administrative Law Judge Jeff Masin determined last week that Sen. Ted Cruz meets the constitutional requirement of natural born citizen and may remain on the New Jersey ballot, objectors filed briefs with exceptions to his initial decision.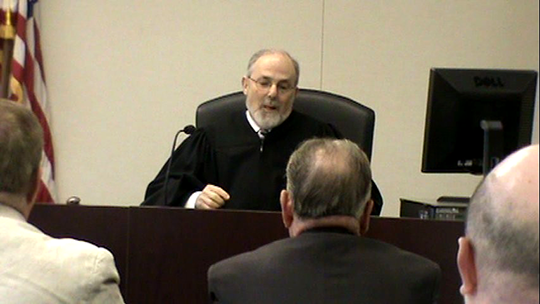 Administrative Law Judge Jeff Masin

Lt. Gov./Secretary of State Kim Guadagno, who had the final say, whereas she could accept, reject or modify Masin's ruling, issued the following statement on April 13: "After full consideration of the record, as well as Judge Masin's thorough and well researched initial decision and the exceptions filed with my office, I, Lt. Governor Kim Guadagno, as Secretary of State and chief election official of the State of New Jersey, adopt Judge Masin's initial decision in its entirety."

No one should be surprised at either of Masin's or Gudagno's decisions, since both made the same determinations in challenges brought against Obama's eligibility.

In fact, exceptions filed by objector Victor Williams, an attorney who is running as a write-in candidate in several states, raised the "irregular appointment process" by which Masin "self-reported that he was 'recalled' to preside over this matter, which Williams said "seriously taints (if not voids)" Masin's April 12 decision upon which Guadagno relied.

Masin indicated to the court that he was "recalled" to preside over these consolidated challenges since he presided over the Obama eligibility challenge and was considered to have some expertise in the matter.

On April 14 Williams filed a petition for additional administrative or adjudicative relief available from the secretary of state and/or all other executive officers including from Gov. Chris Christie.

Williams stated Guadagno relied on a fundamentally flawed decision by Masin and her "Final Decision" of April 13 was in serious error.

He also requested "a review of the basis for, and the possible prejudice inherent in, the Office of Administrative Law's reported 'recall' and appointment of Jeff Masin as administrative hearing judge for this consolidated case."

Another challenge to Cruz's natural born citizenship status filled in U.S. District Court for the Southern District of Texas by Attorney Newton Boris Schwartz, Sr. was dismissed with prejudice last Wednesday by Judge Gray H. Miller.

Schwartz requested a declaratory judgment as to whether or not Cruz meets the eligibility standards of Article II, Section I, Clause 5 of the U.S. Constitution as a natural born citizen in order to be elected and serve as President of the United States.

Cruz filed a motion to dismiss, arguing Schwartz lacked standing to challenge Cruz's eligibility, any challenge to Cruz's eligibility was not yet ripe, the U.S. District Court is not the proper forum for challenging a presidential candidate's qualifications, and, in the event the court did not dismiss Schwartz's challenge, Cruz requested the court find he is a natural born citizen and therefore eligible for the office of President of the United States.

Miller stated Schwartz did not cite any federal court cases that have held an individual citizen has standing to challenge a candidate's eligibility to serve as President, nor could the court locate any such case.

On the issue of ripeness, Miller stated, "Cruz has not yet been nominated as the Republican Party's candidate and may never be. He has not yet been elected President of the United States and may never be. Therefore, it would be premature for the court to address this issue."

Cruz has proclaimed in public forums, despite being born in Canada, because his mother was born an American citizen in Delaware, he was automatically a natural born American citizen and didn't require a Consular Report of Birth Abroad (CRBA).

In other words, Cruz basically admitted he doesn't have one.

However, it appears his mother may not have been an American citizen at the time of his birth and records indicate she may have been a British subject who subsequently became a Canadian citizen.

Cruz's mother and father both appeared on the voter rolls in Canada in 1974, indicating they were Canadian citizens.

Records indicate Cruz's father didn't become a naturalized U.S. citizen until 2005.

At the time of Cruz's birth in 1970, Canada didn't allow for dual citizenship.

With only a Canadian birth certificate and no CRBA, when Cruz, who claimed to have dual American and Canadian citizenship, renounced his Canadian citizenship in 2014, he may be a man without a country.

He may have also served illegally in the U.S. Senate as a Canadian citizen.

U.S. naturalization laws require a child under 18 who was born outside the United States and lives in the physical and legal custody of a U.S. citizen parent, the parent must apply for naturalization of the child.

Maine Gov. Paul LePage questioned Cruz's eligibility to be president.

LePage said his two daughters were born in Canada and had to be naturalized as U.S. citizens even though he was born in the United States.

LePage said he had already looked into it and his daughters are ineligible for the presidency.

Since Cruz is claiming pretty much identical birth circumstances to LePage's daughters, although the U.S. citizenship of Cruz's mother at the time is questionable, Cruz is also ineligible.

If Cruz's mother, assuming she was a U.S. citizen at the time and met the requirements to confer citizenship, never filed an application for a CRBA before Cruz turned 18, that window of opportunity closes.

So far, challenges to candidate eligibility have been dismissed on standing and procedural issues, except for the New Jersey challenges in which Masin has decided and Guadagno has agreed both Obama and Cruz are natural born citizens.

And, like Obama, Cruz has sealed all his records and, unless he consents, will not be released under a Freedom of Information Act request.