March 23, 2016
Missing Migrant Team attempting to reunite remains with next of kin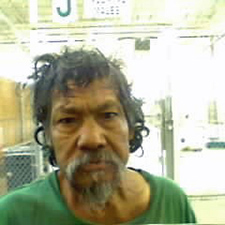 The Tucson Sector Border Patrol's Missing Migrant Team needs the public's help to reunite a deceased man, believed to be an undocumented border crosser, with family members.

A rancher in Santa Cruz County discovered the deceased on July 31, 2015. Investigators found no identification on the man or near his body; nor did they identify reports of a missing person matching the man's description.

The medical examiner conducted an autopsy and obtained a full set of fingerprints. Border Patrol agents crosschecked the fingerprints through multiple databases and found a positive match to a man from Jalisco, Mexico, born in 1946. Records also show his last encounter with Border Patrol was on July 20, 2010.

The Mexican Consulate in Tucson has been unable to locate the deceased man's family. The Missing Migrant Team continues to examine information and conduct research in hopes of reuniting the remains with his family as soon as possible.

Anyone with information should contact the Consulate of Mexico in Tucson, 520-623-7928, or National: 855-463-6395.

Since June 2015, Tucson Sector's Missing Migrant Team has helped with identification in 94 cases within Pima and Maricopa counties. Collaboration with medical examiners, consulates and non-governmental organizations has greatly reduced the identification process from years to weeks.

Wellton BP Agents seize cocaine, meth at checkpoint
Wellton Station Border Patrol agents seized a combined 60 pounds of methamphetamine and cocaine, worth in excess of $250,000, during separate incidents over a 48 hour period. Agents found the drugs in vehicles as they attempted to pass through the Border Patrol immigration checkpoint on Interstate 8, east of Yuma.

The first seizure occurred after a canine team alerted to a vehicle, which was then directed to a secondary inspection. As a result, agents found 10 pounds of cocaine, worth more than $104,000, and 22 pounds of methamphetamine, valued at $66,000, hidden throughout the vehicle.

The second incident occurred when an agent referred a suspicious vehicle for a secondary inspection, at which time agents located 28 pounds of methamphetamine worth approximately $84,000.

Agents processed the drugs, vehicles and drivers, one U.S. citizen and one naturalized U.S. citizen, per Yuma Sector guidelines.

CBP Officers arrest man on outstanding child molestation warrant
U.S. Customs and Border Protection Field Operations officers at the Port of Nogales arrested a Mesa man returning from Mexico March 15 after learning he has an outstanding warrant for child molestation out of Maricopa County, Ariz.

The man told officers he has been living in Mexico for the past three months and was returning to Phoenix. Officers referred the man for secondary inspection to confirm his identity and citizenship.

A background and fingerprint check revealed the man's identity as 28-year-old Evan Allen Bramer; who has an extraditable warrant from Mesa, Ariz. Officers arrested Bramer and turned him over to the Santa Cruz County Sheriff's office for extradition.

According to the Maricopa County Adult Probation Office, Bramer is an unregistered sex offender who absconded late January of 2015, when he is believed to have walked out of the probation office without permission.

Convicted child molester arrested crossing border
Border Patrol agents assigned to the Tucson Station arrested a previously deported, convicted sex offender March 13 near Three Points, Arizona, after he attempted to enter the United States illegally.

Following the arrest of Victor Roberto Hernandez-Dolores, a 33-year-old citizen of Mexico, agents conducting records checks found that Hernandez was convicted of felony child molestation in Georgia and was removed from the U.S. on Dec. 12, 2014.

The Border Patrol contributes to safer communities by preventing dangerous criminals from entering and transiting through the U.S. All individuals apprehended by the Border Patrol undergo extensive criminal history checks using several databases; vital tools for ensuring individuals with criminal histories are positively identified. Since the beginning of fiscal year 2016, Tucson Sector Border Patrol has arrested 46 sex offenders; 10 since March 1.

Customs and Border Protection welcomes assistance from the community. Citizens can report suspicious activity to the Border Patrol and remain anonymous by calling 1-877-872-7435 toll free.

Nogales CBP Officers seize $208K in hard drugs
Customs and Border Protection officers arrested two Mexican men for separate attempts to smuggle heroin and methamphetamine through the Port of Nogales recently.

Officers at the Dennis DeConcini crossing referred a 23-year-old from Nogales, Sonora, Mexico for further inspection of his Chevrolet sedan when he attempted to enter the U.S. on March 12. During the inspection, a CBP narcotics-detection canine alerted to the presence of drugs within the vehicle's rear quarter panel where officers found more than five pounds of heroin, valued at nearly $71,000, and more than 11 pounds of meth exceeding $33,000 in value.

Later in the day, officers at the DeConcini pedestrian lanes referred a 22-year-old man from Guasave, Sinaloa, Mexico for further questioning. During questioning, a drug canine alerted to the man's suitcases containing six packages of heroin weighing more than seven pounds and worth in excess of $104,000.

Officers seized the drugs and vehicle, and turned both subjects over to Immigration and Customs Enforcement's Homeland Security Investigations.

Lukeville CBP Officers seize $612K in drugs
U.S. Customs and Border Protection Field Operations officers at Arizona's Port of Lukeville seized nearly $545,000 in marijuana and approximately $67,000 in methamphetamine during recent seizures.

On March 13, officers referred a 48-year-old man from Chandler, Arizona, for further inspection of his Chevrolet truck and trailer. During the inspection, a CBP narcotics detection canine alerted to the presence of drugs within the nose of the trailer where officers found more than 1,089 pounds of marijuana.

On March 11, officers referred a 38-year-old woman from Puerto Penasco, Sonora, Mexico, traveling with her 42-year-old sister, for further inspection of her Nissan sedan.

Officers then discovered multiple packages of methamphetamine, weighing more than 22 pounds, inside the vehicle's rear bumper and arrested both women.

Officers seized the vehicles and drugs, and turned all subjects over to U.S. Immigration and Customs Enforcement's Homeland Security Investigations.

Federal law allows officers to charge individuals by complaint, a method that allows the filing of charges for criminal activity without inferring guilt. An individual is presumed innocent unless and until competent evidence is presented to a jury that establishes guilt beyond a reasonable doubt.