March 23, 2016
Desert Foothills Theater presents Broadway's longest running musical revue, Smokey Joe's Café, April 1-17
SCOTTSDALE – Desert Foothills Theater (DFT), a division of the Foothills Community Foundation, will serve up great entertainment in April when it presents Smokey Joe's Café, the longest running musical revue on Broadway. DFT's production of the high-energy show runs Friday, April 1 through Sunday, April 17 in the intimate Black Box theater of Cactus Shadows Fine Arts Center, 33606 N. 60th Street, in North Scottsdale.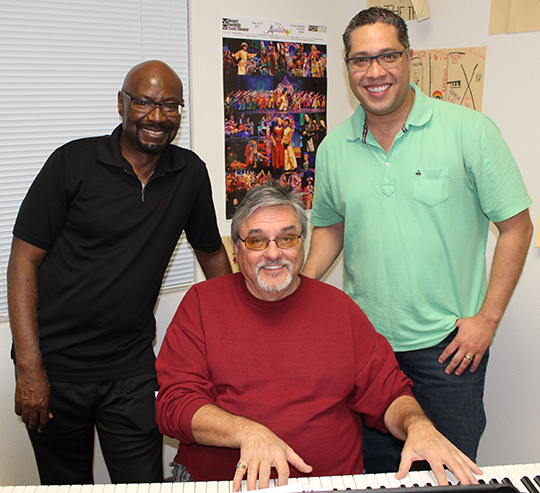 Pictured here at a recent rehearsal: the show's director, T.A. Burrows, musical director, Daniel Kurek, and associate director, Damon Bolling. Photo credit: Tiffany Marie Bolock

T.A. Burrows, known affectionately as "The Versatile Entertainer," is the show's director. Joining him in producing the show are two AriZoni award-winning theater professionals, Damon Bolling, the show's associate director, and Daniel Kurek, the show's musical director.

"Our production is very similar to the Broadway production, with a few changes in staging and our own choreography," Burrows said. "We will use our own creative choreography for the most part, although some facets may be the same as the original production. Our choreographer, the amazing Lynzee Foreman, is well-known for high energy, contemporary dance routines. We're excited to have her on our production team!"

Songwriters Jerry Leiber and Mike Stoller wrote the 39 pop standards featured in the musical revue, which first opened on Broadway in 1995. Popular songs include: "Hound Dog", "Love Potion #9", "On Broadway", "Stand By Me", "Yakety Yak", "Spanish Harlem" and more.

"It's a fun show featuring great music from a great era. I love the fact that the songs are so recognizable and I hope that we'll have the audience singing along, if not dancing in the aisles," Burrows said.

The cast features nine vocalists - five men and four women. The music will be live, with five pieces - piano, synthesizer, drums, saxophone, and bass guitar.

Performances are at 7:30 p.m. on Friday and Saturday nights and at 2 p.m. on Sundays. Tickets range from $26 to $32.50 for adults and $16 to $21 for youth and students. Group sale discounts are available for groups of 10 or more. Visit www.dftheater.org or call (480) 488-1981.