March 16, 2016 | By Marielle D. Marne
New executive office suites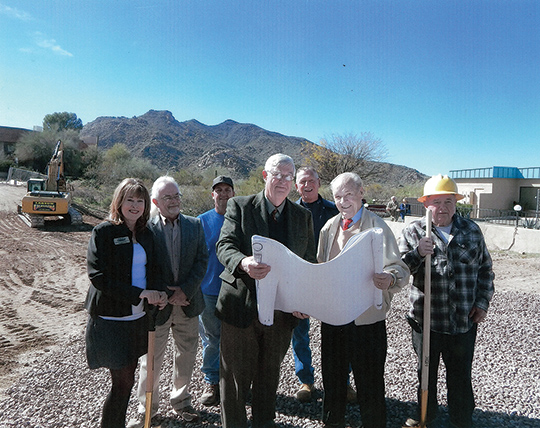 L to r: Front row: Mayor Les Peterson, Harry S. Vardakis (Owner/Broker) Don Dorsey Contractor Back row: Patty (Chamber), D. Thomson (Architect), Larson (Excav.), Glenn (Councilman)

Now under construction – 7405 Nonchalant Ave., Corner of Elbow Bend and Nonchalant in Carefree. Another landmark modern 2500 sq ft building office suites for the executive desiring a home office away from home.

Almost adjacent to the present landmark Copper Domed Building. Suite sizes from 234 sq ft to 410 sq ft., individual heating and cooling, private bath, upscale amenities, tile and carpeting throughout, ample parking and manicured landscaping.

Suites can be combined for larger spaces. Principals only please. Reservations and inquiries now available.

Call Harry S. Vardakis Broker/Owner Palm Desert Realty. 480-488-3099.