Guest Editorial


By Laura Capello, Laura Pastor and Kate Gallego

|

March 9, 2016
Nonprofit and Phoenix officials urge 300 males to volunteer
The U.S. Education Department reports that 19 percent of high school students didn't graduate in 2012-2013. Alarmingly, Arizona is above the national average with 25 percent of adolescents not graduating. Reports show children who spend time with a mentor are less likely to engage in risky behavior and 52 percent less likely to skip school. In hopes of raising awareness about the essential benefits of mentorship, Big Brothers Big Sisters of Central Arizona (BBBSAZ) and My Brother's Keeper Phoenix have joined together and forged a yearlong commitment to recruit 300 new male mentors.

BBBSAZ matches underage children, who are referred to as "Littles," with adult role models or "Bigs."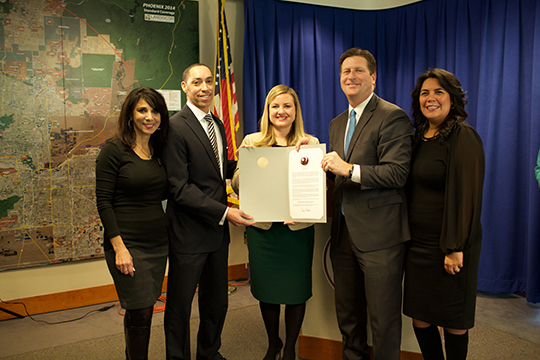 Big Brothers Big Sisters of Central Arizona (BBBSAZ) and My Brothers Keeper (MBK) launched their yearlong collaboration with a press conference at Phoenix City Hall on January 13 and challenged at least 300 males to become mentors in 2016. Various distinguished officials attended the event including Phoenix Mayor, Greg Stanton, President & CEO of BBBSAZ Laura Capello and City Councilwomen Kate Gallego and Laura Pastor. A strong supporter in mentoring and former "Big," the Mayor also unveiled a proclamation officially declaring January 2016 as Phoenix Mentoring Month. (L-R: Laura Capello, Volunteer Victor Foggie, Councilwoman Kate Gallego, Mayor Greg Stanton and Councilwoman Laura Pastor)

The My Brother's Keeper Initiative came to Phoenix when Mayor Greg Stanton accepted President Obama's call to empower young men of color from the classroom to the workplace. The two of us, Councilwomen Laura Pastor and Kate Gallego, have the privilege of chairing the implementation.

There are more than 300 'Littles" on the waiting list for a mentor in the Phoenix-metro area. Seventy percent are young boys, but only three out of every 10 volunteer inquiries are from men, according to Big Brothers Big Sisters of America. Eighty-three percent of the children on the BBBSAZ waiting list are minority males.

Studies show that pairing adult males with young boys leads to a stronger bond, uniting the individuals and allowing them to relate to gender-specific challenges. It is for that very reason that we implore all males in the Phoenix-metro area to step up, help to shape a young man's life and become a mentor today.


Big Brothers Big Sisters of Central Arizona (BBBSAZ) and My Brother's Keeper Phoenix have joined together and forged a yearlong commitment to recruit 300 new male mentors.

Oftentimes, young men enter our organizations afraid, lost and in need of encouragement. But in a matter of months and just a few consistent hours spent with a male mentor, their dispositions change for the better and they begin to hope again, aspire for more and see beyond their current circumstances.

Being a mentor is easy, and contrary to popular belief, doesn't take much time. A mentor only needs to devote a few hours a month to having fun with a young person. It can be as simple as sharing a quiet conversation over a warm meal or attending an action-packed football game.

Additionally, mentorship is a prevention measure that helps deter a life of crime and financial burdens on taxpayers. According to a 2014 study by Justice Policy Institute, it costs Arizona taxpayers a staggering $106,098 a year to confine one young person in the juvenile court system. The long-term cost of confinement is even greater as many of the juveniles will suffer long-lasting negative effects on their mental health and self-esteem.

Big Brothers Big Sisters of America found that children who have a mentor relationship are less likely to engage in risky behaviors, 46 percent less likely to use illegal drugs and 52 percent less likely to skip school. For the sake of our young men, we implore males, particularly males of color, to do more than just think about making a difference in 2016. But to instead, actually make a difference by signing up to be a mentor with one of the great mentoring organizations in the community.

Help get our young men on track. Help our young men thrive. Help our young men have a prosperous future.

Laura Capello, CEO & President of Big Brothers Big Sisters of Central Arizona, City of Phoenix Councilwoman Laura Pastor and City of Phoenix Councilwoman Kate Gallego. Learn more about the volunteer process and mentorship programs at http://www.bbbsaz.org/volunteer or www.phoenix.gov/mbk.