March 2, 2016
Foothill Community Center - MindQuest Speakers Series presents guest speaker Laurence Garvie on March 8

MindQuest Lecture Series is pleased to present Dr. Laurence Garvie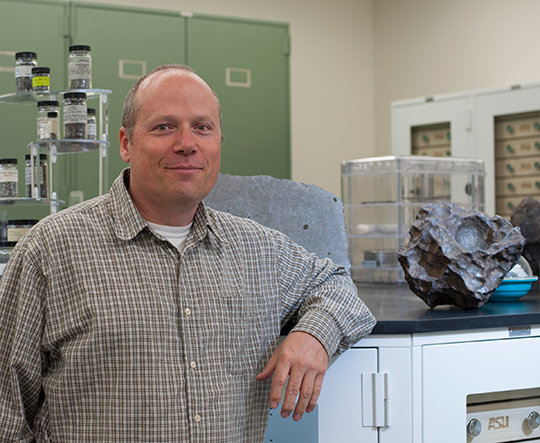 The MindQuest Lecture Series of the Foothill Community Foundation is pleased to announce Dr. Laurence Garvie as a speaker, during its 27th season, presenting Asteroids, Meteorites, and dangers to life on Earth. Dr. Garvie is Research Professor and Curator, Center for Meteorite Studies (CMS) at Arizona State University (ASU). The CMS houses the worlds' largest university based meteorite collections making it a scientific resource and important educationally. In addition, Dr. Garvie is author/co-author of over 70 scientific peer-reviewed articles on a wide range of subjects including meteoritics, mineralogy, electron spectroscopy and microscopy, materials science, and desert studies.

The Chelyabinsk meteor of 2013 entered the Earth's atmosphere at 69,000 km/h exploding around 30 km above the ground and releasing the equivalent of 600 kilotons of TNT of energy. Fortunately, our atmosphere disrupted and vaporized the majority of the 20-meter-sized asteroid, with most material falling to Earth as pea-sized stones. However, a recent analysis of terrestrial asteroid impacts has highlighted the surprisingly high frequency of those with enough energy to destroy a city. The lecture explores the relationship between asteroids, impacts, and what we can do to save our species. Dr. Garvie discusses these and other relevant issues of the environment that supports life as we know it today and takes a look at the origins of this life supporting environment.

In 2008, as a Faculty Research Associate, School of Earth and Space Exploration Dr. Laurence Garvie appeared on PBS. The mineralogist investigates extreme environments on a microscopic level finding opportunities to probe the origins of our world. He appeared on several television shows including nine episodes of the TV Series Meteorite Men; the 2011 Nova ScienceNow documentary "Where Did We Come From?"; the 2013 Mini-Series Alien Encounters, episode "The Offspring"; a 2014 German/French documentary "Rock of Ages"; and on episodes 2,3,4 and 6 of 2015 TV Mini-Series "NASA's Unexplained Files". Dr. Garvie was a presenter for AZSciTechFest in 2015 and Chandler Science Café in 2013 and 2014. In 2015, he presented to the Camp Verde Archaeological Center with the return (9 month display) of the Camp Verde Meteorite. This meteorite was found in 1915 wrapped in a turkey feather blanket within a room vault at a prehistoric ruin near Camp Verde. The meteorite is a portion of the Canyon Diablo Meteor that created Meteor Crater near Winslow, AZ.

The Foothills Community Foundation, 34250 North 60th Street, Building B, Scottsdale, AZ 85266 is a 501C community supported foundation. Contact information for FCF MindQuest Speakers Series are 480-488-1090, info@azfcf.org, and www.azfcf.org. We are located near the YMCA and Black Mountain Campus area of Paradise Valley Community College just two stoplights east of the Carefree Highway and Cave Creek Road intersection. MindQuest single event adult tickets are $20.00 and students $5.00. There are complimentary light refreshments. Enjoy MindQuest Speakers celebrating its 27th season.