By Jillian Carapella | March 2, 2016
Beloved skincare specialist provides
top-notch services to clients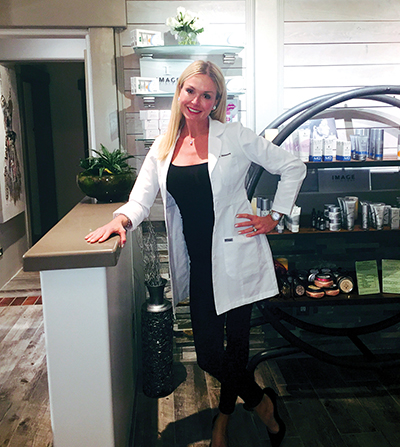 Since finding her passion for skincare, owner of L. Skincare, Lindsay Jackson has become one of Carefree's most beloved aestheticians, maintaining relationships with some of her clients for over a decade.

When performing skincare services, Jackson is both gentle and thorough, refusing to take shortcuts. She tells clients about their skin and pores, and then recommends the best treatment suited to their needs.

"Keeping up with all the latest trends is going to give your clients the best results," Jackson said. "My passion for skincare has been with the changes in technology and keeping up with proper training."

Jackson provides services such as facials, microdermabrasion, laser treatments and injections. For first-time spa visitors, Jackson recommends a microdermabrasion treatment, in which she customizes to individual skin types.

Her talent for making clients feel pampered and relaxed, along with her belief that if prices are kept affordable while continuing to provide stellar service, allows her to maintain what she calls "forever clients."
Both Sue Karp and Jill Andrews have been Jackson's clients for over 10 years, and would hesitate before getting skincare services anywhere else.
"I would feel very bad if Lindsay moved out of the area, because that's how good she is," Andrews said. "Nobody gives a facial like Lindsay does; I've told her before that she has magic in her fingers."
"She's worth her weight in gold," Karp said.
Jackson said the most rewarding aspect of owning a spa is giving clients hope she can change their skin. She strives to make everyone feel beautiful and relaxed at her shop.
When clients enter L. Skincare, they are greeted with a plate of cookies and a friendly receptionist, making her clients feel even more relaxed and at-home.
"I don't feel intimidated there," Karp said. "I just feel like I'm going to see Lindsay."
As far as the future of L. Skincare is concerned, Jackson is pleased with her shop, "Bigger isn't always better." However, she is considering adding new services in order to make L. Skincare a full-service medical spa in the years to come.
Call now for your appointment at 480-427-8559 or 480-488-1441. Conveniently located at 7208 E. Ho Road in Carefree. Visit www.l-skincare.com for more!