February 17, 2016
Cave Creek Fiesta Days Rodeo set for April 1 – 3
Parade, Mutton Bustin' & Kickoff Dance set for March 19
CAVE CREEK – Mark your calendar to attend one of the Valley's biggest and most anticipated events, the Annual Cave Creek Fiesta Days™ Rodeo, presented by Sanderson Ford, set for Fri., Sat., and Sun., April 1, 2 and 3 in Cave Creek!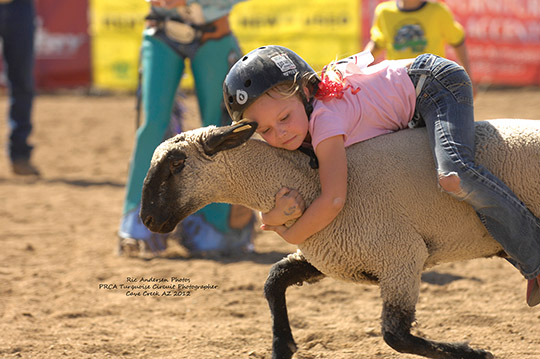 "We are extremely excited for another outstanding PRCA rodeo in 2016 with the Cervi Brothers Rodeo Company, along with their championship livestock and award winning contract personnel, said Traci Casale, President of Cave Creek Pro Rodeo. Cervi is bringing back Justin Rumford, a 4x PRCA Clown of the Year winner, to Cave Creek this year to entertain our rodeo fans as our 2016 Barrelman.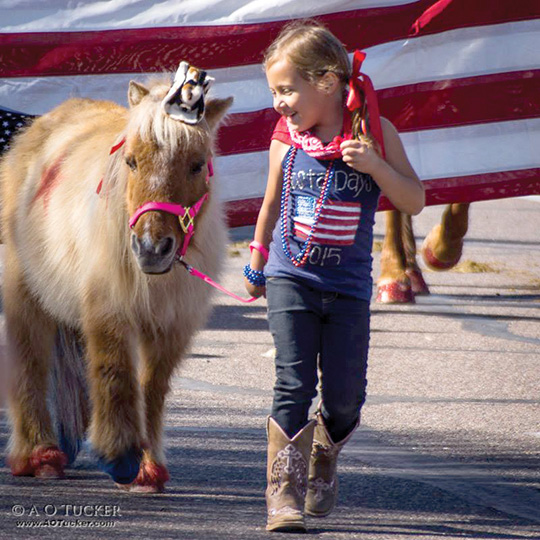 NEW THIS YEAR: Cave Creek Pro Rodeo and Sanderson Ford are presenting Daryle Singletary live in concert after the rodeo on Saturday night. Don't miss your chance to see 2 hours of professional rodeo followed by national recording artist Daryle Singletary and his band on Saturday, April 2. (One night only. Tickets not sold separately.)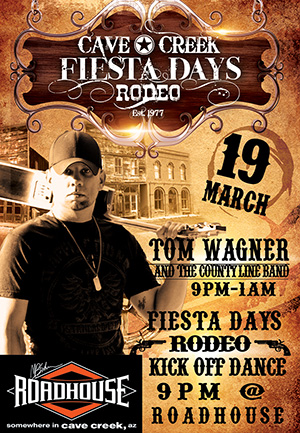 The annual Fiesta Days Kickoff Celebration will be held on Saturday, March 19. The Kickoff Celebration starts at 9 a.m. with the Historic Parade through the Cave Creek town core, followed by the popular Kid's Mutton Bustin' at 2 p.m., held at the Buffalo Chip Arena. Up to 95 Buckaroos, ages 4 to 7, get a chance to compete for the Champion Mutton Bustin' title. The Fiesta Days Kickoff daytime activities offer fun for all ages in the Town of Cave Creek. For the 21 and over crowd, the CCFDR Official Kickoff Dance sponsored by the Cave Creek Roadhouse, will start at 9 p.m. on Saturday night, March 19. The is no admission fee to the CCFDR Kickoff Celebration activities.

The festivities continue throughout rodeo weekend at the Cave Creek Memorial Arena, 24th Street and Carefree Highway, with three full PRCA rodeo performances featuring top-ranking Professional Rodeo Cowboy Association (PRCA) and Women's Professional Rodeo Association (WPRA)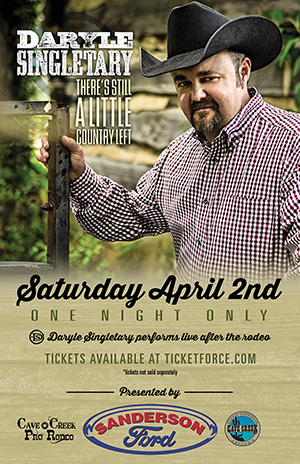 contestants. Rodeo fans can see many of the contestants that make the National Finals in Las Vegas competing during Fiesta Days.

Friday night's 7:30 p.m. performance is "Pink Night" in support of the fight against cancer.
Saturday night's 7:30 p.m. performance will be followed by the Daryle Singletary concert in the arena. Sunday's 2 p.m. performance is Wrangler National Patriot Day in support of American military veterans and their families.

Mark your calendars noting the exciting changes to the Fiesta Days schedule. Rodeo tickets are on sale at TicketForce.com. Performances are selling out, so please purchase your rodeo tickets in advance. For more information please visit www.CaveCreekProRodeo.com.