February 17, 2016
Looking for a new adventure with horses in your senior years?
Many of us have been enjoying horses all of our lives. As we get older, we are more concerned about pain and injury while p artnering with our full size equines. There is a fun alternative – Miniature Horses!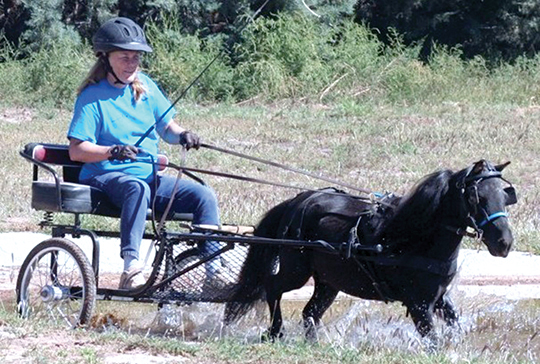 The Miniature Horse is truly a horse for everyone, of all ages. They are not ponies. They are different in many ways. Because of their small size (about 3 feet tall at their back), they are very easy to groom, handle, affordable to feed and maintain. Mini's are intelligent, fun to be around, and they have sweet dispositions. They are also inquisitive and easy to train.

It's easy to imagine young children with a Miniature Horse. Now imagine the other end of the spectrum. A growing number of seniors are turning to Miniature Horses to continue their lifelong enjoyment of equines. You can enjoy them as pets that you can love on and take for walks. They are easily trained to pull a cart, do obstacle courses, halter conformation classes, jumping classes, competitive driving activities, be your hiking buddy and even a therapy animal.

Several clubs offer activities for people with Miniature Horses --- The Miniature Horse Association of Arizona, the Saguaro State Miniature Horse Club and the Arizona Driving and Carriage Society. These clubs have numerous local activities for you to enjoy with your Mini. A growing number of seniors are trading in riding and competing with their full size horses for pleasure driving events and showing a Miniature Horse.

If you are interested in meeting beautiful and adorable Miniature Horses, come to the Arizona Miniature Horse Festival for four full days of competition at WestWorld in Scottsdale, March 24 – 27. Showing starts at 8 a.m. Admission is free! Parking is free!

For more information call 623-465-5034.