February 17, 2016
Town of Carefree welcomes new "YOGA in the Gardens"

New partnership with YMCA supports health and wellness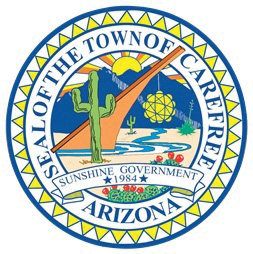 CAREFREE – Starting February 22, 2016, the Town of Carefree and the Desert Foothills Family YMCA will offer a free community yoga class called "Yoga in the Gardens", located in the Carefree Desert Gardens, underneath the historical Carefree Sundial on Mondays from 11 a.m. to 12:00 p.m.

The partnership recently blossomed when the YMCA's Executive Director, Katie Smetana, approached the Town about doing a "pumpkin carving night fundraiser" in conjunction with the Town's first Enchanted Pumpkin Garden exhibition. "We appreciate the mission and vision of the YMCA and feel they add valuable health and educational programs to our residents and surrounding neighbors," says Marketing Director, Gina Kaegi. "We will continue to explore offerings of health and wellness programs for our residents, aligning with the culture and vision of building a sense of community and vitality within the town."

This free, all levels, class will explore yoga movement with the added beauty backdrop of Black Mountain and the sounds of the newly renovated reflecting pool underneath the Carefree Sundial. Just show-up, bring a friend and your yoga mat for a one of a kind yoga experience! VisitCarefree.com for more information on Town events and programs.