BY Liam Morales | February 10, 2016
Farewell Senior Falcons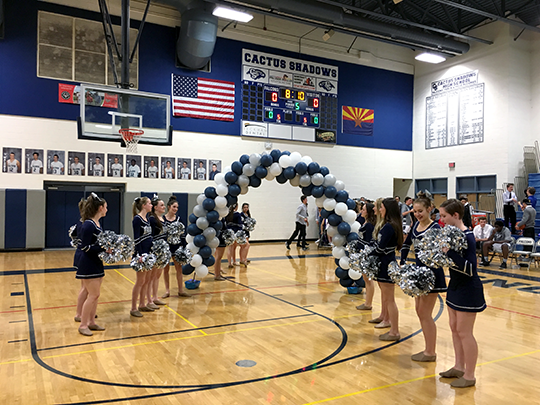 Cactus Shadows pom waits for the senior Falcons to walk down through the tunnel.

On Friday, February 5 the Cactus Shadows Varsity Falcons matched up against the Notre Dame Saints for the final game of the season. The stands filled with family members ready to watch their senior play his final game in a Falcons uniform on the annual CSHS Basketball Senior Night.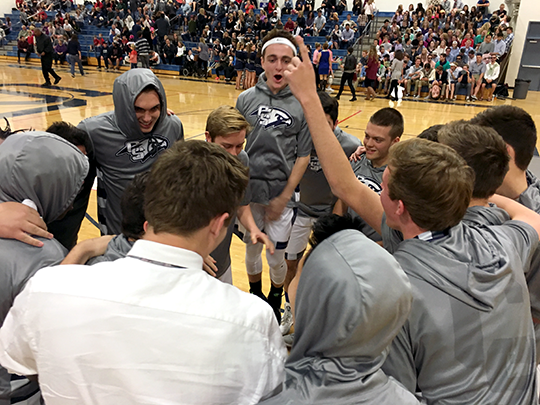 Falcons huddle up to prepare for themselves for the game.

The first quarter was very entertaining, as both teams seemed to have the step on one another. "We rebounded the ball and did a good job attacking the paint and keeping them out of the paint" said coach Kyle Diemer of the Saints. With the clock winding down, Notre Dame threw up a three point shot to beat the buzzer giving them momentum going into the second quarter. At the start of the second the Falcons began to take the lead. Aaron Cohn of the Falcons tallied 3 steals, which lead to 6 fast break points and the 36-31 lead going into halftime.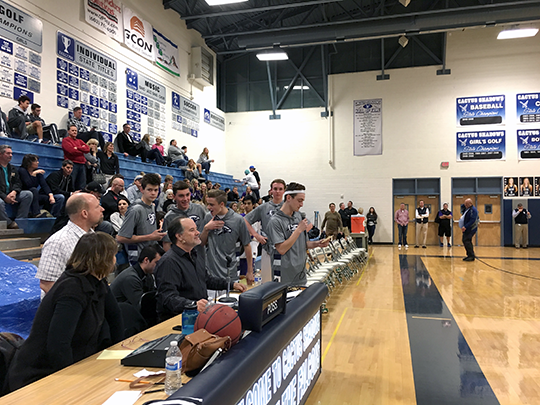 Falcons Aaron Cohn shares story about senior teammate.

At the start of the third, Falcons coach Jamaal Scott made a substitution to the starting five by inserting senior Brad Rein, letting him fulfill his dream. Brad has been the team's manager for the past three years. "The things he does don't show up in the statistic book… I'm really proud of him," said coach Scott. This gesture must have ignited senior Falcon Nick Potthoff as he put up 7 third quarter points, 2 of those points from a slam-dunk that induced the team and crowd.

With the Falcons leading 54-46 going into the fourth quarter, the Saints knew they had to get a run going. They did just that, with a 13-7 run bringing the deficit to 2 points with 2:30 seconds left on the clock. However, the Falcons locked in and responded with a 3-point shot and a great defensive play to take a charge.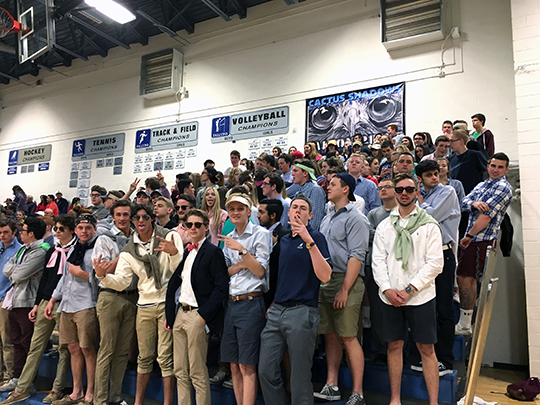 Cactus Shadows High School student section.

With about one-minute left on the clock and a 6-point lead, Coach Scott again inserted Brad Rein to finish out the game. With 15.2 seconds left on the clock, Rein backed the ball into the paint and got his first points as a Falcon. "It's everything I've dreamed about and more, it was such and incredible feeling," said Rein. With what seemed like a fairy tale ending, the Falcon seniors and team walked away with a victory in the last game of the season, 68-59.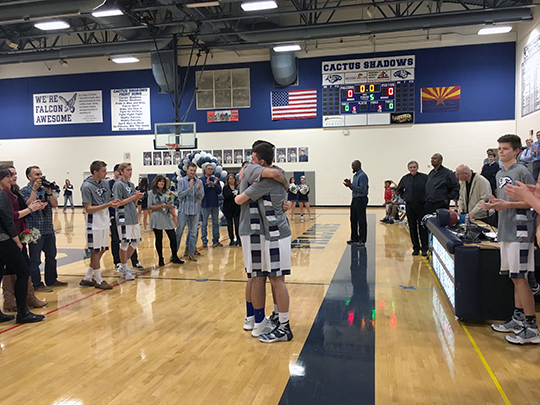 Falcons Daniel Witkop embraces senior teammate Carlo Paoletti.

Liam Morales is a Sports Journalism major at ASU's Walter Cronkite School of Journalism. He hopes to become a broadcaster for the National Basketball Association and that one day you'll be watching him on TV working for ESPN.